'Get out stinking Muslim': Arizona Senate candidate bullied online for her religion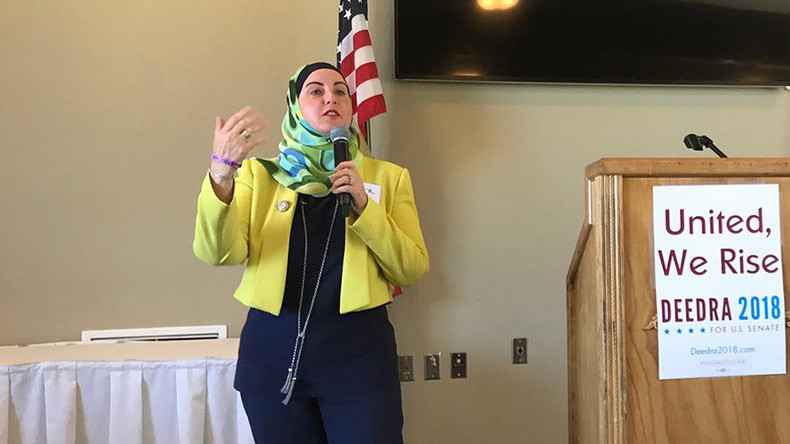 Democratic Senate candidate Deedra Abboud has been inundated with hateful comments on Facebook after she posted a campaign video touting the wisdom of America's Founding Fathers and the freedoms that they had written into law. All because she's Muslim.
Abboud, a Phoenix attorney and civil rights activist, is running to represent the people of Arizona in the US Senate in 2018.
Online reaction to her campaign posts and videos has been full of attacks on Abboud's religion. Here are just some of the comments to her posts and videos:
"Nice try but your first love is Satan (AKA Allah) and your second love is to a litter box your 'people' come from. You are as American as Chinese checkers," wrote S. Jason Parr.
"Get out stinking Muslim," said Roy Sanders.
"BAN ISLAM IN THE USA…WE HATE YOUR FILTHY DEATH CULT," came from Chris Ruen.
Abboud's campaign alerted reporters on Tuesday that she was receiving online abuse.
The attacks intensified after she posted this:
Abboud converted to Islam 19 years ago and helped open the first Arizona office of the Council on American-Islamic Relations after the 9/11 terrorist attacks, according to Azcentral.com.
Dozens of people wrote in support of Abboud in response to the attacks online.
"Please ignore the hate, Deedra. These are people with obvious mental disorders and massive insecurities. I don't know if I'll support your campaign, but my decision will have absolutely nothing to do with your faith. Stay strong!" wrote Jim Savoca.
"Ignore the ignorance and hatred, Deedra. Arizona NEEDS you. You have my vote!" said L.J. Roberts.
The Democratic candidate has also received support from what may seem to be an unlikely place ‒ her potential opponent in the general election, Republican Senator Jeff Flake.
"Hang in there @deedra2018. Sorry you have to put up with this. Lots of wonderful people across AZ. You'll find them," Flake tweeted.
It will be an uphill battle for a Democratic candidate in Arizona, no matter what their religion. The last time a Democrat won a US Senate seat from the state was in 1988.