GOP Senate healthcare bill loses more votes ahead of Trump meeting at White House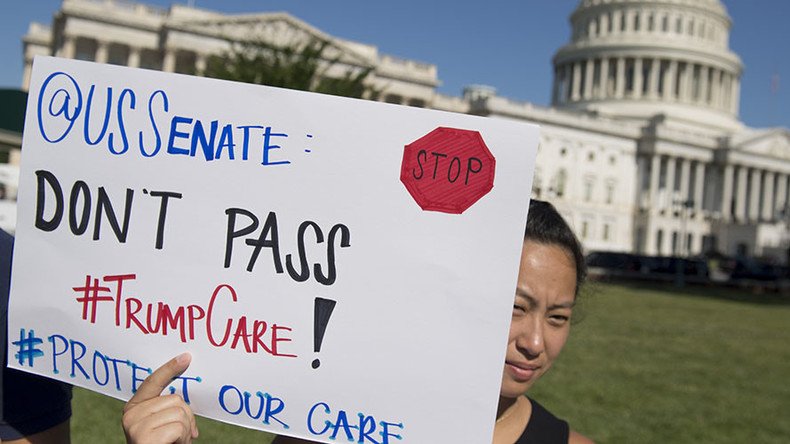 The recently delayed "repeal and replace Obamacare" vote in the Senate still appears unlikely to pass, as President Donald Trump invited Republicans to the White House to finally make a deal. Two more GOP senators have just backed out.
UPDATE: Senate plans to separate Obamacare repeal bill from replacement
Late Monday evening, Trump tweeted that "Republicans should just REPEAL failing ObamaCare now & work on a new Healthcare Plan that will start from a clean slate. Dems will join in!"
Despite multiple meetings with GOP senators, there remains no consensus on what to enact after repealing Obamacare, formally known as the Affordable Care Act. Trump now seems optimistic that a bipartisan deal will be made that brings together moderates of both parties.
On Monday, two more Republican senators announced their opposition to the revised GOP healthcare bill.
Senator Mike Lee (R-Utah) released a statement that said he opposed the revised healthcare bill because, "in addition to not repealing all of the Obamacare taxes, it doesn't go far enough in lowering premiums for middle class families; nor does it create enough free space from the most costly Obamacare regulations."
Senator Jerry Moran (R-Kansas) also released a statement, saying that the revised health care bill "fails to repeal the Affordable Care Act or address healthcare's rising costs."
"We should not put our stamp on a bad policy," Moran said. "We must now start fresh with an open legislative process to develop innovative solutions that provide greater personal choice, protections for pre-existing conditions, increased access and lower overall costs for Kansas."
With Lee and Moran's announcements, the total number of senators who said they would not vote on the bill in its current form is now four, two more than Senate Majority Leader Mitch McConnell (R-Kentucky) can afford to lose.
Last Friday, McConnell announced that Republicans would delay voting of their proposed health care reform bill until Senator John McCain (R-Arizona), who has undergone surgery, is healthy enough to return to vote.
During Monday's White House press briefing, Press Secretary Sean Spicer announced that Trump planned to "have some senators over tonight" to discuss the health care bill.
Spicer said the White House has "every confidence in the Majority Leader's ability to get this done," adding that Trump "will do whatever he has to to support those efforts."
"There's no one better than Mitch McConnell when it comes to knowing how and when to make a bill successful in the Senate," Spicer boasted.
During his remarks at the Made in America Product Showcase on Monday, Trump wished McCain a speedy recovery, saying that he is needed for the upcoming vote.
"We hope John McCain gets better very soon because we miss him. He's a crusty voice in Washington. Plus, we need his vote," Trump said, according to the White House. "And we need a number of votes because we do have to repeal Obamacare, and we will end up replacing it with something that is going to be outstanding."
Republicans currently hold a 52-48 majority in the Senate, which means McConnell can't afford to lose more than two GOP votes. Vice President Mike Pence's ability to break a 50-50 tie is becoming as likely a scenario as any for the bill to squeak through.
McConnell and Trump will struggle to appease both conservative and moderate criticisms of the bill.
Senator Rand Paul (R-Kentucky) told Fox News Sunday that McConnell won't have the votes to pass the bill.
"The longer the bill's out there, the more conservative Republicans are going to discover that it's not repeal," Paul told CBS News on Sunday. "They elected us to repeal Obamacare. And now we're going to keep most of the taxes, keep the regs, keep the subsidies and create a giant bailout super fund for the insurance companies. I just don't see it."
Also Sunday, Senator Susan Collins (R-Maine) told ABC News that she is not sure McConnell has the votes, but said that the vote would be "extremely close."
"There are about eight to 10 Republican senators who have serious concerns about this bill," Collins told CNN.
"I don't know whether it will pass. But I do know this. We should not be making fundamental changes in a vital safety net program that's been on the books for 50 years. The Medicaid program, without having a single hearing to evaluate what the consequences are going to be."
While the vote is delayed, Senate Minority Leader Chuck Schumer (D-New York), along with several other leading Democrats, sent a letter to McConnell asking for Republicans to hold open hearings on the bill.
"Given your decision to delay the vote on the Better Care Reconciliation Act, we request that you use this additional time to hold public hearings so that senators can invite impartial experts, including patients, to testify on the policies in the bill, especially the radically conservative Cruz/Lee proposal released to the public only five days ago," the letter read, according to CNN.
"This will allow members to hear unfiltered and unbiased analysis of how the bill will affect their states and the health and financial security of the constituents they represent, including the impact of Medicaid cuts to vulnerable populations like children, people with disabilities, and people with pre-existing conditions."
On Monday, New York Attorney General Eric Schneiderman and Governor Andrew Cuomo (D) warned that if the current Senate bill passes, the state will challenge the bill's constitutionality in court.
"This bill isn't simply unconscionable and unjust – it's unconstitutional. That's why I've made clear: if this bill ever becomes law, I will challenge it in court, to protect the millions of New Yorkers whose health care is at stake," Schneiderman said.
There were also several protests that sprouted over the weekend from groups opposing the GOP health care bill.
You can share this story on social media: