McCain illness forces Republicans to delay vote on troubled health care bill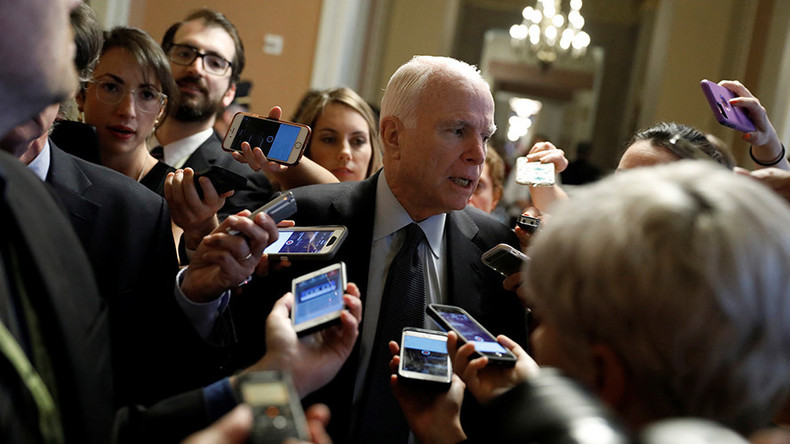 Senate Republicans have delayed consideration of their proposed health care reform bill while Senator John McCain recovers from surgery for a blood clot.
Senate Majority Leader Mitch McConnell wished McCain a speedy recovery in a statement Sunday, adding that Senate Republicans would now work on other "legislative items and nominations" in their colleague's absence.
McCain's illness is the latest blow to the already tumultuous effort by Republicans to repeal and replace Obamacare.
READ MORE: 80 arrested on Capitol Hill protesting Senate healthcare bill
Republicans currently hold a 52-48 majority in the Senate, meaning they can afford to lose two senators and still pass the legislation using the tie-breaking vote of Vice President Mike Pence, a fierce critic of Obamacare.
Moderate and conservative Republican senators Susan Collins of Maine and Rand Paul of Kentucky have both said they will vote against the Better Care Act, Obamacare's proposed replacement. Without McConnell's delay, the loss of McCain's vote would almost certainly have spelled defeat for the repeal effort.
READ MORE: Senate GOP releases new Obamacare repeal-and-replace plan
The Arizona senator is recovering at home after having a three-inch blood clot removed above his left eye during surgery Friday. The clot was discovered and removed at the Mayo Clinic Hospital in Phoenix on the same day, according to a statement on McCain's website.
McCain paid tribute to the staff of the Mayo Clinic on Twitter Sunday.
His daughter, Fox News host Meghan McCain, also tweeted her support for her father.
Speaking to reporters on Air Force One Thursday, President Donald Trump said health care reform was "the only thing more difficult than peace between Israel and the Palestinians."
"It's like this narrow road that's about a quarter of an inch wide," Trump said. "You get a couple [votes] here and you say, great, and then you find out you just lost four over here. Healthcare is tough."
You can share this story on social media: