At least 3 dead as 5-alarm fire traps people in Honolulu high-rise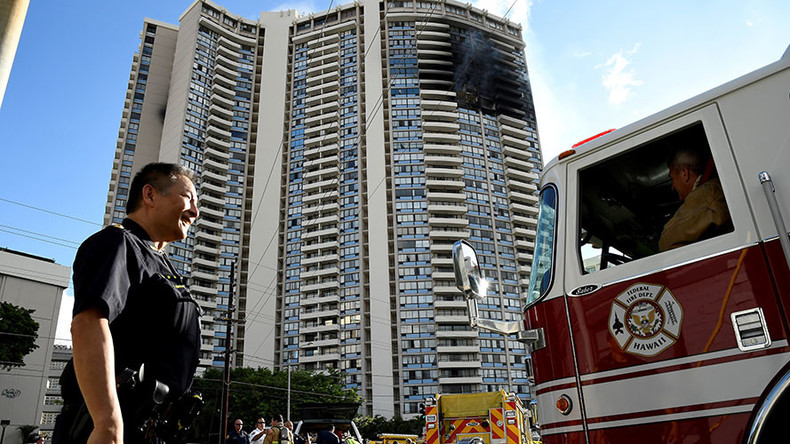 At least three people died, as over 100 firefighters battled a massive five-alarm fire in a condominium in Honolulu, Hawaii. At least 12 were reportedly injured in the blaze.
A crew of more than 100 firefighters managed to bring the fire under control by 6:30pm local time on Friday, Reuters reports citing Honolulu Mayor Kirk Caldwell.
The Honolulu Fire Department confirmed three deaths on the 26th floor, AP reported. Four of the 12 injured, including one firefighter, were hospitalized in serious condition, while others were treated at the scene, according to the Star-Advertiser newspaper.
As of 4:45pm local time (10:45pm Eastern) the flames continued to spread to multiple floors.
By 4:30pm local time, the fire was raised from a four-alarm to a five-alarm, KHON reported.
"Hopefully within another hour or so, it will be under control," Fire Chief Manuel Neves told reporters at 5:20pm local time.
More than 100 firefighters have responded to the Marco Polo building.
The fire began on the 26th floor of the 36-floor building around 2:20pm local time, according to HawaiiNewsNow.
The three deaths were confirmed to have occurred on the 26th floor by the Honolulu Fire Department, the Associated Press reported.
Honolulu Mayor Kirk Caldwell told reporters that the fire would have been "put out by now" if the building had had an indoor sprinkler system. Chief Neves agreed.
"This lady's voice, I'm not kidding you. I'm trembling. She's like help me, help me, and I couldn't see her because the smoke was so dark," resident Teresa Sommerville told KHON. "All of a sudden the wind shifts and you see this lady is standing inside the lanai. She's not standing over the edge or anything, and she's like 'Help me, help me.'"
"We had people report that there are people unaccounted for on several floors around the fire. We are making sure we are addressing every concern as far as persons in the building, making sure that everyone gets out safely," Honolulu Fire Department's Capt. David Jenkins said, KHON reported.
"There have been reports of debris falling from the fire floor and causing secondary fires on other parts of the building below at the second-floor level. We are also addressing that issue as well," Jenkins said.
According to the Associated Press, Honolulu Emergency Medical Services treated two patients and transported them in serious and stable condition to a hospital. Emergency medical technicians and two fire chiefs have been evaluating patients for smoke inhalation, and a triage center has been established in the building, AP reported.
The American Red Cross of Honolulu has also joined the emergency response, according to HawaiiNewsNow. A volunteer told the news outlet that the Red Cross is ready to house 800 people overnight if necessary.
Firefighters inside the building have been blasting water hoses from the lower level balconies up to the blazing upper levels.