Okla. cop who fatally shot unarmed Terrence Crutcher resigns after acquittal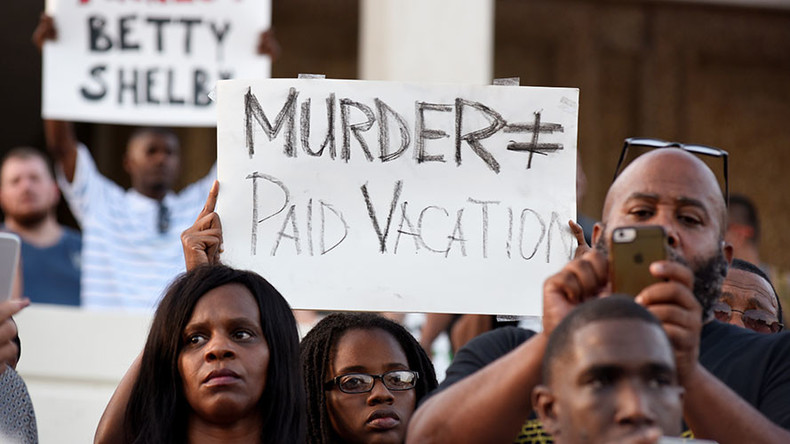 A white Oklahoma police officer, recently acquitted of fatally shooting an unarmed black man, has submitted her resignation from the Tulsa Police Department.
Officer Betty Shelby, 43, submitted her resignation from the police department on Friday and said her desk job made her feel isolated from her colleagues. Her resignation will be effective August 3.
The officer had been working in an administrative role at the police department since she returned to work days after her acquittal.
Shelby said she was praying for healing for the family of Terence Crutcher, who died after she opened fire in September 2016.
"As I have stated before, the incident with Terence Crutcher was a tragedy for everyone involved, and I am sorry he lost his life," Shelby said. "I will continue to pray for the unity of our community, the safety of our citizens and our police officers."
Her attorney, Shannon McMurray, told the Associated Press that she was not sure what Shelby will do next. There had been no agreement in place for a payout.
It was not clear whether the police chief has received Shelby's letter, Tulsa police spokesman Sergeant Shane Tuell told AP, adding that he couldn't comment until that document is in hand.
In May, following a one-week trial, a jury acquitted Shelby of manslaughter after deliberating for nine hours.
Crutcher was on his way home from his night class at Tulsa Community College on September 16, 2016, when he pulled his SUV over because he was experiencing car trouble.
Shelby was on patrol that night and claimed she shot the 40-year-old father because she thought he was reaching for a gun, although police footage shows Crutcher had his hands in the air. He was unarmed during the encounter, in which he was standing near his vehicle in the middle of a street.
The backup officers' dashcam and helicopter weren't recording the beginning of the incident, but started when Crutcher's hands were up. Crutcher was tasered by another officer as Shelby fired at him.
The shooting led to protests in Tulsa when video of the confrontation was published, bolstering a national debate in the US over alleged racial bias in law enforcement.
On September 22, the Tulsa County district attorney charged Shelby with first-degree manslaughter after the shooting was labeled a homicide.
In June, Crutcher's family filed a wrongful death lawsuit in federal court against Shelby and the city of Tulsa. They are seeking $75,000 in damages and calling for widespread reform in the Tulsa PD.
On Monday, the police officer who fatally shot Philando Castile in Minnesota last July was awarded a $48,500 payout to leave the St. Anthony Police Department.
The payout is in addition to "up to 600 hours" of accrued personal leave to be given to Jeronimo Yanez. The officer was making $72,612 a year at the time he shot Castile, the Minneapolis Star Tribune reported.
According to the agreement, Yanez was informed of the separation on June 30 and was given 10 days to consider. The agreement prevents Yanez from bringing any future claims related to Castile's death.
Castile was shot five times and killed during a traffic stop last July while his girlfriend Diamond Reynolds and her four-year-old daughter were in the car.
Reynolds livestreamed the immediate aftermath of the shooting on Facebook. The footage sparked outrage and protests across the US.