'Punish Russians for having RT?' Fox News host slams US senator over 'Russian propaganda' (VIDEO)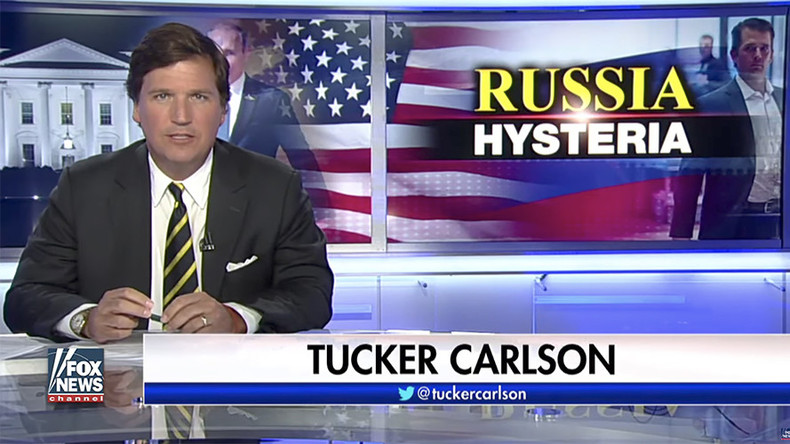 Fox News host Tucker Carlson slammed Democratic Congressman David Cicilline, who claimed on Carlson's show that RT is simply a "Russian propaganda" machine.
The confrontation starts off as Cicilline says the US should "hold them [the Russian government] to account and sanction them," so that "Russia understands that America isn't going to allow that."
Host Tucker Carlson interrupted to ask: "Not to allow what exactly?"
Cicilline stumbles with his response, repeating instead a familiar refrain among politicians in the United States: "Russian RT propaganda" is to blame.
Carlson continues to press Cicilline: "You said RT is a problem. RT is a cable network. It's a very left-wing one by the way. I don't watch it, but… RT is a part of the American press corps. Do you think we should ban RT? What are you saying exactly?"
Cicilline does not give a direct answer, saying instead that "the Russian government, led by Vladimir Putin, engaged in a very sophisticated effort to undermine the election of Hillary Clinton."
He then dwelled a little on the claim that "RT promoted propaganda, fake stories, that were then retweeted on the internet," going on to slam the channel as "not a news organization." The lawmaker, though, did not voice any facts to back up his allegations. Fox News's Carlson seemed to disagree on this, too.
"Ed Schultz works there! Larry King works there!"
The show's host then tried to fish out any answer from Cicilline, asking: "so should RT be banned if it's such a problem?"
"It's not a question of should be allowed," Cicilline says, adding, "They facilitated the release of stolen emails." To this, Carlson retorts, "Well, so did the New York Times."
Cicilline reluctantly agrees that "Russian propaganda can exist, but what we can do is protect our democracy from it," prompting the question from Carlson: 'How, exactly?'
"We can punish the Russians for what they did," Cicilline responds. "For having a cable network?" Carlson wonders, also asking what role Larry King, one of RT's "lead anchors," plays in "the Russian propaganda," as put by Cicilline.
"I have no idea. I don't know about Larry King's show," the senator says.
In the end, both Carlson and Cicilline admit that Russia stories are quite exhausting, but Cicilline points out that "You wanna talk about Russia, because it's salacious and people watch your show because of it."
The US has repeatedly accused Russia of hacking and using the data to interfere with the 2016 presidential elections. Yet a few days ago, during his state visit to Poland, US President Donald Trump said that "nobody really knows for sure" if Russia was linked to any of the allegations.
Earlier this month, the AP news agency became the latest to retract a claim alleging that all 17 US intelligence agencies confirmed that Russia was behind the hack of Democratic Party emails and tried to swing the election in favor of Republican candidate Trump.
Moscow regularly rejected the allegations: in particular, following the Putin-Trump meeting on the sidelines of the recent G20 summit.
"President Trump said that he has heard earlier declarations from Mr. Putin that the Russian leadership and Russian government have not interfered in the elections. And he accepts the things that Mr. Putin said," according to Russia's Foreign Minister Sergey Lavrov.
He added that "not a single fact has been presented" that would back up the allegations of Russian meddling.