US media dilute facts with false 'Russian hacking' stories – top state election official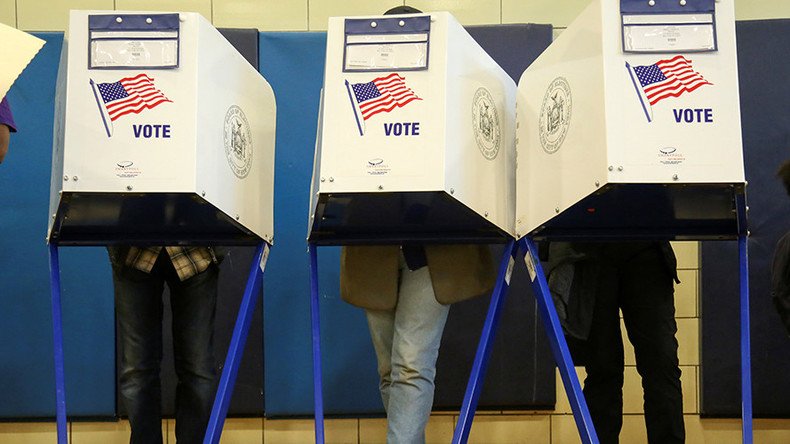 The American media dilute the facts and fan conspiracy theories by spreading allegations of Russian meddling in the US presidential election, a senior state election official has said, adding the voting system is near-impossible to manipulate externally.
The media frenzy surrounding alleged "Russian meddling" in the 2016 US election suggests that reporters are often doctoring or neglecting hard facts for the sake of good storylines, Brian Kemp, Georgia's secretary of state, argued in an opinion piece for USA Today.
"As reporters chase stories to feed the 24-hour news cycle, they dilute facts and develop false narratives about Russian hacking and potential vulnerabilities in the system," he said. "The prevailing plot line is that states like Georgia can't provide suitable security for elections."
Kemp, who serves as the state's chief election official in charge of voting procedures, said "non-partisan experts agree that manipulating a presidential election makes a good TV storyline but lacks real-world standing."
The mainstream media pushing the Russia line in their coverage have simply no clue about safety measures installed to ensure protection of the election system, the official noted.
He described the state voting systems as "diverse, highly scrutinized and not connected to the internet." Consequently, any computer network attacks on voter registration do not affect the vote count. "The thing that matters most – your vote – is secure," Kemp stressed.
His dissenting opinion was voiced days after activists from investigative outlet Project Veritas released hidden camera footage showing a CNN producer who admitted that the media corporation's anti-Russian coverage has much to do with "incredible ratings."
"It's mostly bullsh*t right now. Like, we don't have any big giant proof," John Bonifield, a CNN producer, said in the video. Asked why CNN is obsessed with Russia-related stories, Bonifield responded, "Because it's ratings."
"Our CIA is doing sh*t all the time, we're out there trying to manipulate governments," he said. "I think the president is probably right to say, like, 'look, you are witch-hunting me,'" Bonifield said.
In his opinion piece, Kemp said "misinformation from the media or disgruntled partisans not only fuels conspiracy theorists but also erodes the first safeguard we have in our elections — the public's trust."
Inaccurate reporting is "a disservice to the American people" as it fails to respect the electoral system's reliability, the senior official added.
"To be candid, the most plausible and potentially effective attack on our elections is not by hacking the vote — it is through the manipulation of the American media machine," he continued. These "baseless attacks and inaccurate stories enhance voter apathy and erode our confidence in the cornerstone of our democracy," Kemp concluded.
Ongoing accusations that Russia played a role in US President Donald Trump's campaign have plagued his presidency, along with allegations that the hack on the Democratic National Committee which leaked emails from Hillary Clinton's staff was ordered directly by Russian President Vladimir Putin.
Moscow has consistently dismissed the accusations as baseless. Earlier, speaking to renowned US filmmaker Oliver Stone, Putin said the US itself has a long record of interference in Russia's domestic affairs.
"[They did it] in 2000, and in 2012, this always happened. But especially aggressively in 2012. I will not go into details," Putin said, adding that all of the other post-Soviet countries have also been subject to US meddling. "They gathered opposition forces and financed them, went to opposition rallies," the Russian leader said.
You can share this story on social media: