Presidential wall: Trump sued for blocking people from his Twitter account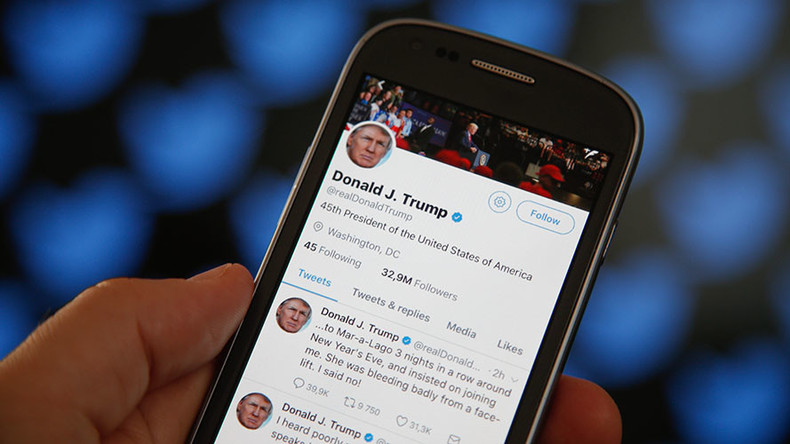 A group of Twitter users, whom Donald Trump blocked from his account, have filed a lawsuit against the US president arguing that he violated their First Amendment rights. They claim that, with a click, Trump barred them from engaging in public debate.
Plaintiffs include seven people from across the US who have been blocked from the @realDonaldTrump account as they criticized the president in their replies to his tweets.
One of them is Rebecca Buckwalter, a political consultant from Washington, DC. Last month, she replied to a tweet in which Trump said he would not have won the election had he relied on the "fake news" media.
"To be fair you didn't win the WH: Russia won it for you," Buckwalter wrote ‒ and was promptly blocked by Trump's account.
"The viewpoint-based exclusion of the individual Plaintiffs violates the First Amendment," reads the lawsuit.
The civil action argues that Trump's Twitter account is a public forum, and cites a recent Supreme Court opinion saying that social media platforms ‒ like Facebook and Twitter ‒ provide "perhaps the most powerful mechanisms available to a private citizen to make his or her voice heard." The practice of blocking Twitter users "imposes an unconstitutional restriction on their right to petition the government for redress of grievances," says the lawsuit.
READ MORE: Twitter lawsuit seeking right to reveal US surveillance requests moves forward
The Knight First Amendment Institute at Columbia University, which represents the blocked Twitter users, is also one of the plaintiffs in the case. They are complaining that they "are now deprived of their right to read the speech of the dissenters who have been blocked."
In addition to Trump, the lawsuit also names Sean Spicer, the White House press secretary, and Dan Scavino, Trump's director of social media, as defendants.
The FAKE MSM is working so hard trying to get me not to use Social Media. They hate that I can get the honest and unfiltered message out.

— Donald J. Trump (@realDonaldTrump) June 6, 2017
In June, Spicer said Trump's tweets were "official statements."
Those who have defended the president's ability to block some of his Twitter followers argue that the president also has First Amendment rights, and that the account ‒ @realDonaldTrump ‒ is his personal one, unlike @POTUS, which is set up for all presidents. @POTUS retweets the president's 140-character missives.
READ MORE: 'Nothing better to do with life?' Trump mocks Kim Jong-un after Pyongyang's latest missile test
The lawsuit contends that, because Trump has repeatedly used his personal account to make formal announcements, it is a public forum.
My use of social media is not Presidential - it's MODERN DAY PRESIDENTIAL. Make America Great Again!

— Donald J. Trump (@realDonaldTrump) July 1, 2017
The US president has used his Twitter account like no other head of state. He also said it was thanks to social media that he was able to directly communicate his message to his voters and win the election.
"My use of social media is not Presidential — it's MODERN DAY PRESIDENTIAL," Trump tweeted earlier in July.
The lawsuit opens a legal debate on what public officials can and cannot do with their social media accounts.