'Greatest aviation disaster in history' averted at last minute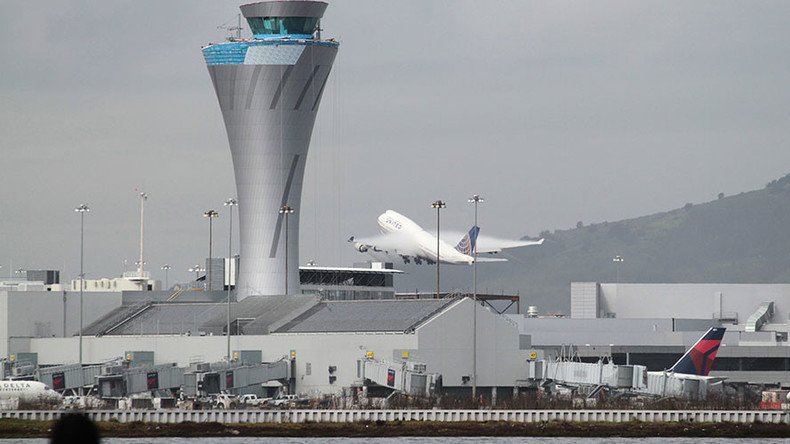 The US Federal Aviation Authority is investigating why a passenger jet made a potentially disastrous landing approach towards a taxiway containing four other planes at San Francisco International Airport.
Details are emerging about an apparent near-miss at San Francisco International Airport on Friday, in which a flight arriving from Toronto reportedly mistook a taxiway for a runway.
READ MORE: Drone smashes into Boeing passenger plane during landing (PHOTOS)
Audio recording between air traffic control at the airport shows the concern of fellow pilots.
"United One, Air Canada just flew directly over us," one pilot can be heard saying in the Live ATC audio. Another person adds: "Where's this guy going? He's on the taxiway."
The US Federal Aviation Authority (FAA) is now investigating the incident, which could have seen the jet land in an area occupied by four other planes.
"[An] Air Canada A320 was cleared for land on Runway 28R at San Francisco International Airport," an FAA spokesperson told RT.com.
"However, the pilot inadvertently lined up for Taxiway C, which runs parallel to the runway. An air traffic controller sent the Air Canada jet around. The plane made another approach and landed without incident."
An Air Canada spokesperson confirmed the incident to RT.com and said an investigation is underway.
"Air Canada flight AC759 from Toronto was preparing to land at San Francisco airport Friday night when the aircraft initiated a go-around," the statement from the airline read. "The aircraft landed normally without incident. We are still investigating the circumstances and there is no additional information to offer."
Former United Airlines captain Ross Aimer said landing on a busy taxiway could have resulted in the worst aviation disaster in history.
READ MORE: Trump announces plan to modernize, privatize air traffic control
"If it is true, what happened probably came close to the greatest aviation disaster in history," former United Airlines captain, Ross Aimer, told Mercury News. "If you could imagine an Airbus colliding with four passenger aircraft wide bodies, full of fuel and passengers, then you can imagine how horrific this could have been."
Currently, the US government is exploring ways to "modernize" air traffic control in airports around the country.
In June, US President Donald Trump announced his ambition to upgrade air traffic control which relies on radar and radio technology. He referred to it as an "ancient, broken, antiquated, horrible system that doesn't work."
There are also plans to privatize the US air traffic control, which is currently managed by the Federal Aviation Authority.
You can share this story on social media: