Civilian death toll rises to over 600 in US-led coalition airstrikes against ISIS in Iraq & Syria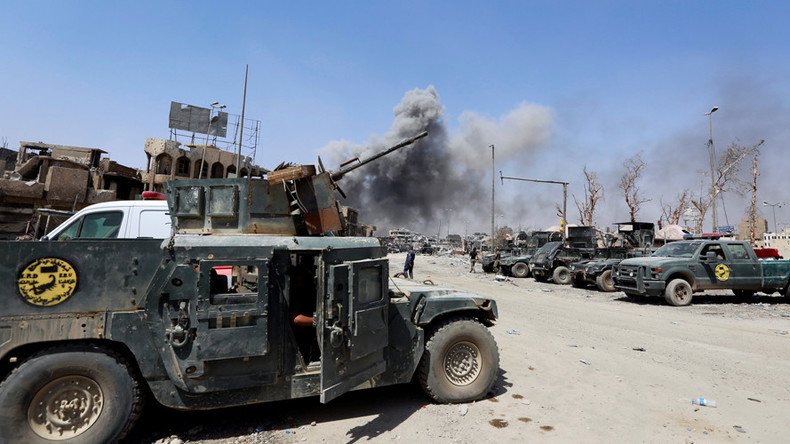 A new Operation Inherent Resolve report has confirmed a total of 603 civilian deaths in the US-led air campaign in Iraq and Syria, while the UN warns of a new spike in casualties as the assault on Islamic State-held Raqqa in Syria unfolds.
"To date, based on information available, CJTF-OIR [Combined Joint Task Force] assesses that, it is more likely than not, at least 603 civilians have been unintentionally killed by Coalition strikes since the start of Operation Inherent Resolve," the statement issued on Friday reads.
The new data has upped the total civilian death toll by more than 100, after a report last month acknowledged 484 civilian deaths.
"Although the Coalition takes extraordinary efforts to strike military targets in a manner that minimizes the risk of civilian casualties, in some incidents casualties are unavoidable. Twenty-seven reports were assessed to be credible resulting in the unintentional death of 119 civilians," the report reads.
"To date, based on data between August 2014 and May 2017, the Coalition conducted a total of 21,910 strikes that included 46,534 separate engagements. During this period, the total number of reports of possible civilian casualties was 727."
The data released this month indicated a drastic increase in the number of reports of possible civilian casualties, which was 440 last month, as the coalition has begun the assessments of 222 "historical reports" received from Airwars, a UK-based group that monitors airstrikes and civilian casualties in Iraq, Libya and Syria.
The US-led coalition has already analyzed 80 reports from Airwars this month, dismissing 70 of them and labeling the rest as credible. One hundred and forty-two reports from the NGO are still pending investigation by the coalition.
Airwars has conducted its own detailed reviews of strike reports, giving a minimum estimated figure of 4,354 civilians killed in the US-led coalition's aerial bombing campaign. Infographics released by Airwars indicate a sharp increase in civilian deaths in Mosul since October 2016, corresponding with the intensified US-led operation to recapture the western part of the city.
The new surge in civilian casualties was reported in June as US-backed forces carry out an assault on the Islamic State (IS, formerly ISIS/ISIL) stronghold in the Syrian city of Raqqa. Since June 1, at least 173 civilians have been killed in the city by air and ground strikes, according to the UN commissioner for human rights, who added that the figure was "likely a conservative estimate and the real death toll may be much higher."
"The intense bombardment of Al-Raqqa over the past three weeks has reportedly left civilians terrified and confused about where they can seek refuge as they are caught between ISIL's monstrosities and the fierce battle to defeat it," High Commissioner Zeid Ra'ad Al Hussein said. "The large number of civilian casualties indicates that much more needs to be done by the parties to ensure protection of the civilian population."
The coalition, however, dismissed such reports, promising to "challenge" the UN official.
"I think we are being as careful as we need to be and as we can be, and I would challenge the individual from the UN who made this hyperbolic statement that civilian casualties are staggering. Show me some evidence of that," coalition commander General Stephen Townsend told the BBC.
You can share this story on social media: