Up to 20,000 Mosul civilians facing 'extreme danger' as battle against ISIS continues – UN official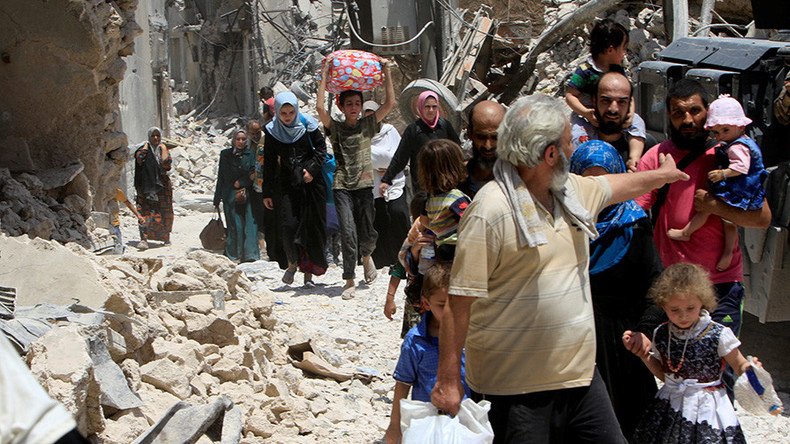 As many as 20,000 civilians are still trapped in the last remaining area of Mosul held by Islamic State (IS, formerly ISIS/ISIL) militants, a senior UN official has confirmed, adding that they are in "extreme danger."
"Our estimate at this stage is that in the final pockets of the Old City, there could be as many as 15,000 civilians, possibly even as high as 20,000," the UN's humanitarian coordinator in Iraq, Lise Grande, told AFP.
"The people that are still trapped inside of these pockets are in terrible condition," Grande said, adding that they are facing food shortages.
"They're in extreme danger from bombardment, from artillery crossfire. The (IS) fighters that are still there are still directly targeting civilians if they try and leave."
In the past eight months, IS militants have gone from fully controlling Mosul to holding only a small pocket of territory on the west bank of the Tigris River. That pocket is about 500 sq meters, AP reported.
The battle has decreased the number of IS militants fighting in Mosul from thousands to just a couple of hundred, according to the Iraqi military.
However, those military gains have come at a cost. More than 8,000 civilians have been killed or wounded, according to the UN. That estimate is somewhat rough, as it only counts people transferred to hospitals from frontline clinics.
Of the approximately 915,000 people who have been forced to flee their homes, nearly 700,000 are still displaced.
"We exceeded our worst-case scenario more than a month ago. In our very worst-case scenario, we thought that 750,000 people would flee," Grande said.
Of the 44 residential neighborhoods in the northern Iraqi city, six are nearly completely destroyed, according to Grande. Twenty-two are moderately damaged, while 16 are lightly damaged.
Meanwhile, the US-led coalition fighting IS in Mosul has come under international criticism for its use of white phosphorus in the city, which was confirmed by a New Zealand general last month.
"We have utilized white phosphorus to screen areas within west Mosul to get civilians out safely," Brig. Gen. Hugh McAslan told US broadcaster NRP.
However, Human Rights Watch (HRW) has warned that the use of white phosphorus can have unintended - and extremely dangerous - effects on civilians.
"Its incidental effects can cause terrible injuries – burns, smoke inhalation," Mary Wareham, the advocacy director of HRW's arms division, told RT last month. She urged the US to be "extremely careful and sparing" when it comes to white phosphorus.
The eventual stabilization of Mosul - which was overrun by IS in 2014 - will cost an estimated US$707 million. That figure is nearly double the amount originally estimated, because "the level of damage in western Mosul is far higher than what we feared it would be," Grande said.
You can share this story on social media: