Army updates transgender rules, delays recruits until 2018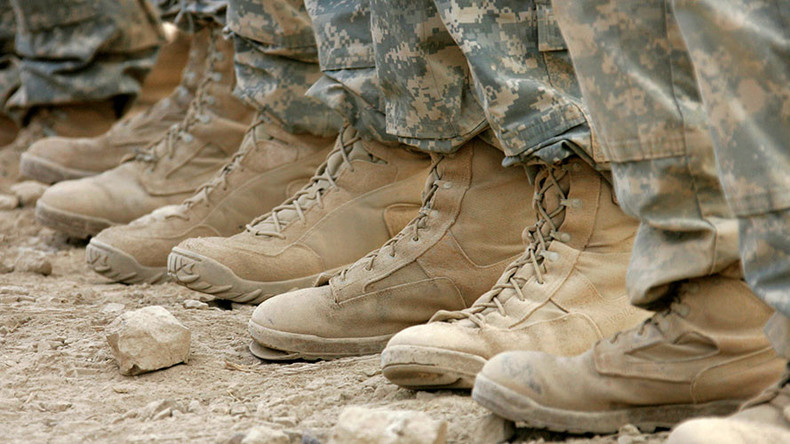 US Army service members are being directed as to how to treat their transgender peers under new policies that also outline requirements for transitioning while in service and the use of gender-specific facilities on base.
In accordance with policy changes approved by former Secretary of Defense Ash Carter, the US Army has crafted training manuals on how to deal with transgender service members and those who undergo gender transition while serving in the military.
The new "Tier Three Transgender Training" policies were laid out in a powerpoint presentation and accompanying lesson plan published by the Federalist on Wednesday.
Last Friday, Defense Secretary Jim Mattis delayed processing transgender recruits until January 1, 2018, in order to give the joint chiefs time to review the potential impact on "readiness and lethality of our forces." However, the delay does not prevent soldiers that are currently serving from transitioning.
The force-wide policies begin by defining the difference between a service member's sexual identity and gender identity. The Army defines a service member's sex through their biology, while they define a service member's gender as "the socially defined roles and characteristics of being male and female associated with that sex."
The Army then defines a transgender soldier as any service member who has received a medical diagnosis that gender transition is "medically necessary." The diagnosis must be supported by a military medical provider and the transitioning soldier must notify their chain of command about the diagnosis as well as the estimated date their gender marker will be changed.
Once a military medical provider has confirmed the transgender service member has completed the medical care necessary to achieve "stability in the preferred gender," they may request approval to change to their "gender marker" in the Army's personnel management system, the Defense Enrollment Eligibility Reporting System (DEERS). The soldier would also be required to change their gender designation on their passport or birth certificate to their preferred gender.
After a service member switches their gender marker, they will be expected to "adhere to Army standards applicable to the preferred gender," including using billeting, bathroom, and shower facilities that match their gender marker in DEERS.
US military has until12/1 to provide info on how integrating transgender recruits would affect readiness & lethality https://t.co/GRFaqhAQEg

— RT America (@RT_America) July 3, 2017
The training manuals provide a real world example of a transgender service member in transition from male to female, who begins using the female barracks, bathroom, and shower facilities.
The Army directs other service members to "accept living and working conditions that are often austere, primitive, and characterized by little or no privacy," adding that transgender service members "are not required to modify or adjust their behavior based on the fact that they do not 'match' other Soldiers."
Commanders do have the option to alter the facilities "in the interest of maintaining morale, good order, and discipline and consistent with performance of the mission." However, they do not have the option to designate, modify or construct transgender-only areas. Any modifications that are made must be available for all soldiers to use.
The training documents state that service members should treat transgender soldiers with dignity and respect and never ask about another service member's gender identity or disclose the information without their permission.
"Commanders should approach a Soldier undergoing gender transition in the same way they would approach a Soldier undergoing any medically necessary treatment," the documents states.
"Personal information regarding transgender Soldiers should be safeguarded to the same extent as comparable information regarding any other Soldier."
On June 30, 2016, Carter announced a new Army policy that allows transgender service members to serve openly and provides them with a process to transition while serving in the military.
"Otherwise qualified service members can no longer be involuntarily separated, discharged or denied reenlistment or continuation of service just for being transgender," Carter said at a news briefing, adding, that transgender service members, "like all other service members, will get all medical care their doctors deem necessary."