'Will certainly miss Russia': US ambassador Tefft to leave office
Published time: 4 Jul, 2017 20:33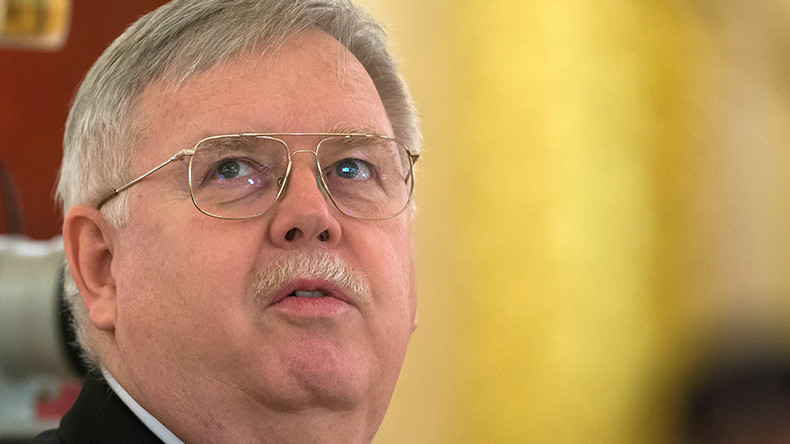 Veteran US diplomat, Ambassador John Tefft, will step down from office in early autumn, but will miss Russia and its "wonderful people" and most likely return as a tourist.
The announcement was made during Independence Day Celebrations at the US Embassy in Moscow Tuesday.
"Ambassador John Tefft and his spouse Mariella will leave the office this fall," Deputy Chief of Mission Lynne Tracy said.
"There's a difficult period between the two countries now, but I've been lucky to work alongside Ambassador Tefft, and I've been seeing every moment an unexcelled professional, who tried to establish understanding between Russia and the US."
Tracy also read an message from US Secretary of State Rex Tillerson, who thanked Tefft for his many years of diplomatic service. Tefft was considering retirement after he vacated his post as US ambassador to Ukraine in 2013, but was asked to assume his current position in Moscow following Michael McFaul's resignation.
"I expect to return home in two or three months, though my colleagues joke that I've made a bad impression when [I] tried to retire for the first time," Tefft said, adding in Russian, "Spasibo! Do svidanya! (Thank you and goodbye.)"
"I'll certainly miss Russia," Tefft told the Komsomolskaya Pravda (KP) daily which quoted his words in Russian. "I've lived in total six years there. I've travelled a lot and met wonderful people."
"I'll be back," Tefft told KP, saying he will likely return to Russia as a tourist.
Tefft is a veteran US diplomat with vast experience in Eastern European politics. He served as Deputy Chief of Mission at the US Embassy in Moscow in 1996 and 1997, was Ambassador to Lithuania in 2002-2003, held the post in Georgia between 2005-2009 and Ukraine from 2009-2013.