'Let's do it! We are waiting for the pilot!' RT offers Michael McFaul his own show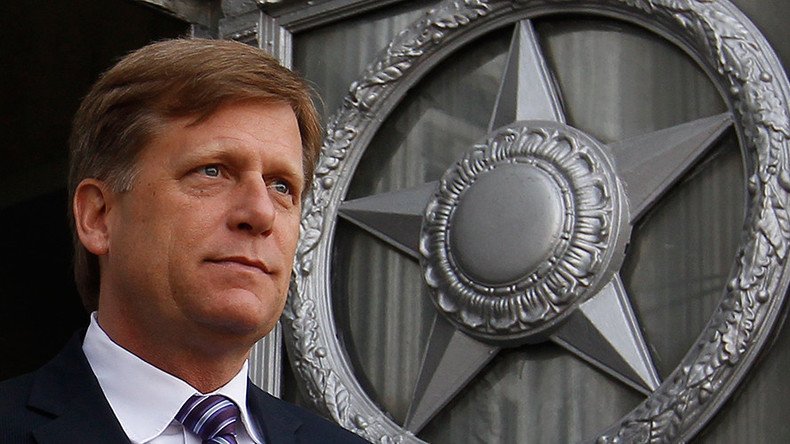 Former US ambassador to Russia turned full-time Kremlin critic Michael McFaul offered to present a show on RT for free to prove that dissenting views are not welcome on the channel. He was immediately given a chance to record a pilot program.
"I volunteered to host my own show on RT. No response yet," McFaul, who was in Moscow between 2012 and 2014, wrote on his Twitter feed on Tuesday.
Within an hour, RT editor-in-chief Margarita Simonyan tweeted back: "Let's do it! I am waiting for the pilot."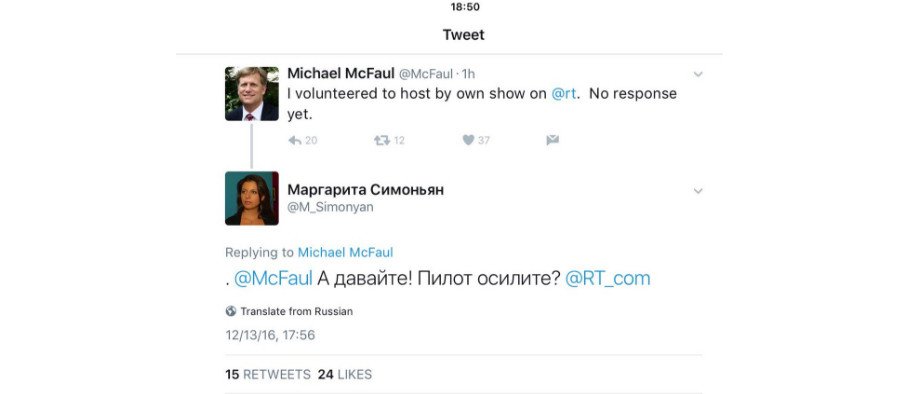 "Have your US team be in touch by email," replied McFaul, who is now back at Stanford University, as a professor specializing in post-Communist Russia.
As stakes grew in this game of chicken, one user asked if McFaul was going to take money from the Russian state, to which he replied that he would "work for free."
When asked about his qualifications for a job in front of the camera, McFaul promised to submit a resume.
"Professor… with respect… is this a good idea?" asked a concerned McFaul subscriber.
"I'm calling their bluff. They will never air a show hosted by me. I would focus every show on Putin," replied the 53-year-old.
"Waiting for that pilot," shot back Simonyan.
@McFaul@RT Own show is too much ))) an expert participating in discussions would be interesting ))

— ОЮ (@OYurgensRussia) December 13, 2016
McFaul has been a keen supporter of investigating Russia's influence in swinging the result of last month's presidential election won by Donald Trump. In his latest column for the Washington Post last week, he particularly laid into foreign-language news outlets broadcasting from Moscow.
"We have laws preventing foreign governments from contributing financial support to candidates. Should we have similar laws about in-kind support? Such regulation seems hard, in tension with our First Amendment, but shouldn't our lawmakers wrestle with the issue? Should Sputnik and RT employees be accredited as journalists or as foreign agents under the Foreign Agents Registration Act? I don't know. But we need to know," wrote the former ambassador.
At the same time, McFaul appears to have a grudging respect for RT's power, if not its content.
"RT does serve the interests of the Kremlin effectively. [The US government] must reconsider our strategy in this domain. VOA [Voice of America] not cutting it," he tweeted following his exchange with Simonyan.
McFaul's tenure coincided with one of the worst periods in Russia-US relations since Perestroika, with his final months marked by tension over the Maidan protests in Kiev, and the international reaction to the Sochi Olympics, after which he left.
You can share this story on social media: