Trump v CNN: Republican, Democrat voters see spat through different trustworthiness lenses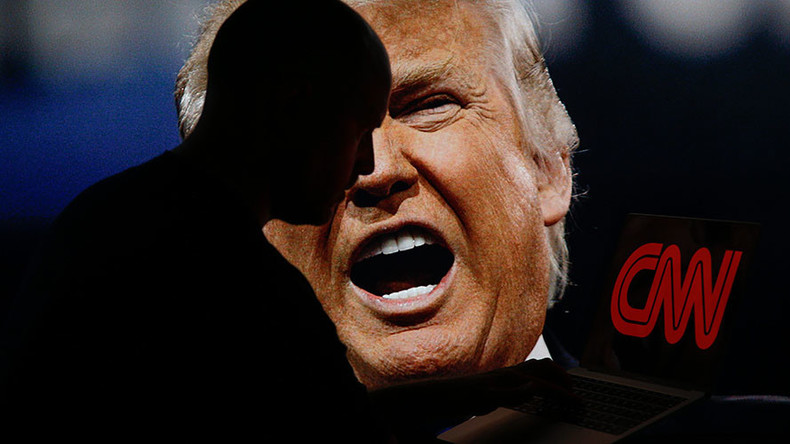 The vast majority of Republicans believe Donald Trump is more trustworthy than CNN while almost all Democrats believe the opposite, according to a new poll. It comes as Trump continues to label CNN as a "fake news" outlet.
The poll, conducted by SurveyMonkey and reported by Axios, found that 89 percent of Republicans believe US President Donald Trump – who has long accused CNN of reporting "fake news" – is more trustworthy than the media outlet.
On the other hand, and perhaps predictably, 91 percent of Democrats believe CNN is more trustworthy than Trump.
Independents also sided with the Democrats overall, with CNN coming out 15 points ahead among those surveyed.
The president also lost out to The Washington Post and The New York Times, with the newspapers considered more trustworthy by nine points, among all adults surveyed.
Mainstream American news networks ABC, CBS, and NBC also fared better than Trump in the poll, winning by an 11 point margin.
However, Republicans alone showed a similar trust in Trump when compared to those news channels. In addition, 33 percent of Republicans said they only received their news from Fox News.
The findings come against a backdrop of an ongoing battle between Trump and the mainstream media, with CNN being his most targeted outlet.
The president's criticism of CNN appeared to be vindicated late last month when three of its journalists resigned following the retraction of a story on an alleged Congress investigation into a "Russian investment fund with ties to Trump officials."
READ MORE: 3 CNN journalists behind retracted Russia-Trump story resign
Trump addressed the scandal on Twitter multiple times.
Staying with Twitter, the poll found that 89 percent of Democrats disapprove of Trump's use of the social media site along with 38 percent of Republicans.
When respondents were asked to describe Trump's tweets, the majority (47 percent) of all adults surveyed chose the word "undignified." Thirty-four percent called them "mean," while 26 percent thought they were "entertaining." A very small number, (seven percent), said they believed the tweets were "presidential."
Of the Republicans surveyed, the majority said Trump's tweets were "truthful."
Meanwhile, SurveyMonkey SVP Jon Cohen told Axios that "a red flag for Democrats continues to be a perception that Trump is isolating himself from the GOP base with his tweets."
Cohen also said the survey is significant and relevant because "the fight between the White House and major media outlets has made the question of truthfulness just as partisan-tinged as healthcare or other policies."