Masked gunman shot dead after failed helicopter heist in Oregon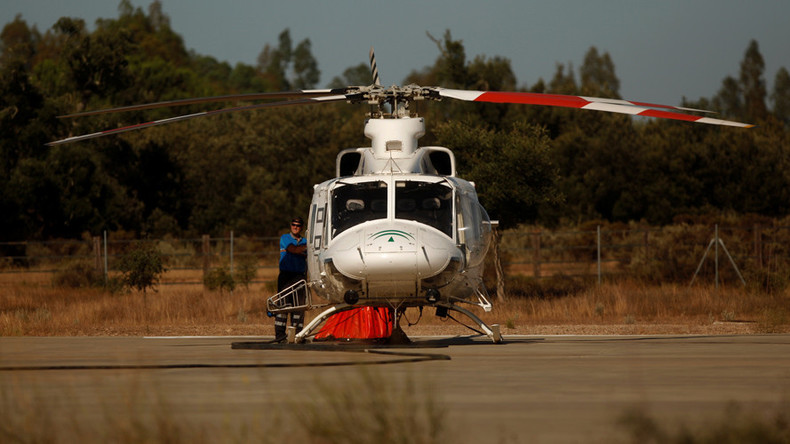 A masked man was fatally shot by police after he tried to steal a helicopter at the Hillsboro Airport near Portland, Oregon. The unidentified man was armed and fired his weapon during the attempted robbery.
Around 11:40am Monday, the unidentified gunman wearing a mask pointed his firearm at a flight instructor and a student inside a helicopter. He fired in the air when the student hesitated to get out, according to Hillsboro Police Lieutenant Henry Reimann. The student and the teacher then fled when the suspect pointed his weapon at them again.
The suspect had scaled a fence at the airport gaining access to the helicopter at Hillsboro Aero Academy, according to the Portland Tribune. When police arrived on the scene, the suspect left the helicopter and jumped back over the fence.
The gunman then ran across the street into a field where he was eventually shot and killed by police. Emergency services tried to save him but the suspect died on the scene before noon, authorities said.
Christopher Neal, director of public safety and security for the Port of Portland, which oversees the airport, was with his family watching planes land and told KOIN that he saw the suspect jump over a fence.
"Immediately I thought, it's a little hot to have this hoodie on, and just as he walks by our car and looks at us and just got past that's when he pulled the gray mask over his face."
The airport was briefly closed but reopened again at 1:00pm, according to officials, the Oregonian reported.
The 95-acre airport is home to over 25 businesses, including flight schools, aircraft charter services, air ambulances and corporate flight departments.
The Port of Portland tweeted a statement following the incident.
"We are grateful for response of Hillsboro police, who are leading investigation. HIO has resumed airport operations," the statement read.
The FBI has been in contact with local authorities.