US drone targets Al-Shabaab militants in Somalia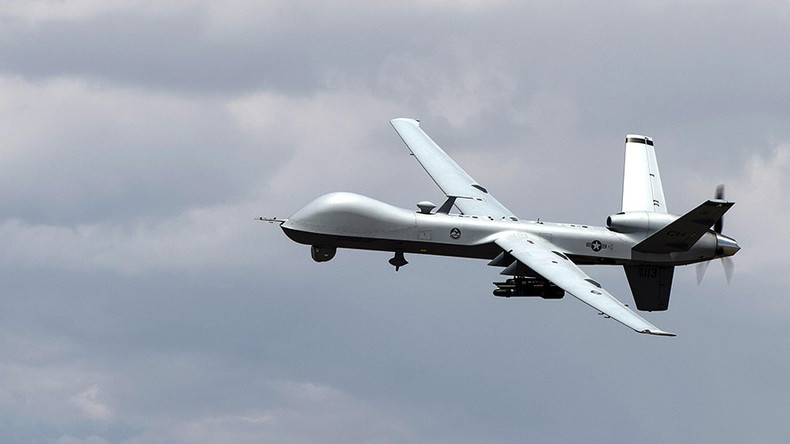 The Pentagon has acknowledged that a US drone has carried out an airstrike in Somalia against the terrorist group Al-Shabaab. There were no further details about the attack, the second since President Donald Trump expanded US strike authority.
"On July 2, at approximately 7:30 am Eastern Daylight Time, US forces conducted a kinetic strike operation against al-Shabab, an Al Qaeda associated terrorist group. We are currently assessing the results of the operation, and will provide additional information as appropriate," the Pentagon said.
"US forces remain committed to supporting the Federal Government of Somalia, the Somali National Army and our AMISOM partners in defeating al-Shabab and establishing a safe and secure environment in Somalia."
A small US force in Somalia was granted the authority to conduct offensive air strikes against the terrorist group in March, as part of a strategy to support the African Union mission (AMISOM) propping up the government in Mogadishu.
The terrorist group is aligned with Al-Qaeda and seeks to establish Islamic Law. It threatens the government of president Mohamed Abdullahi "Farmajo" Mohamed, a US citizen who took office in February. Al-Shabaab was forced out of Mogadishu in 2011, but still controls large amounts of territory in central and southern Somalia. The US has been fighting the group since 2007.
The first airstrike under the expanded authority was on June 11, and killed eight Al-Shabaab militants, according to the US military.
A small number of US ground troops was deployed to the country earlier this year, for the first time since 1994. In May, a US Navy SEAL was killed during a joint operation with Somali government forces against Al-Shabaab.
African Union troops are supposed to begin withdrawing from Somalia next year. The country is presently also afflicted by famine, which threatens about six million people.
You can share this story on social media: