'Infinity, right?' Trump relaunches iconic National Space Council with Buzz Aldrin by his side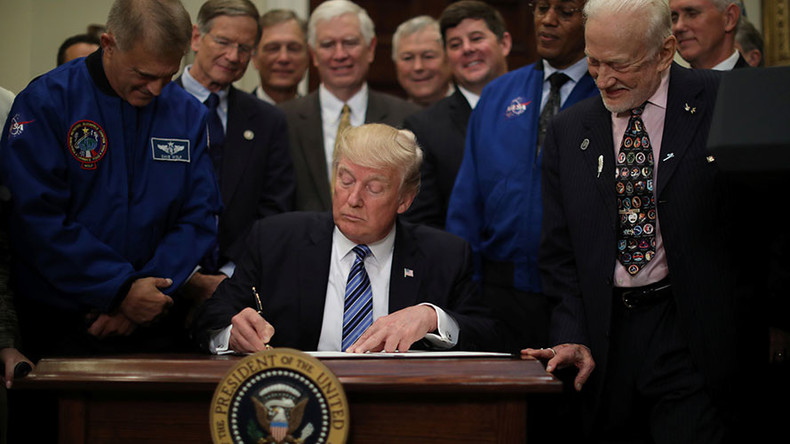 President Trump extolled the private sector's "tremendous spirit" during an executive order signing ceremony to revive the 1960s-era National Space Council, but how far that sentiment extends, such as to SpaceX-style reusable rocketry, is an open question.
Vice President Mike Pence, who will lead the National Space Council, told a gathering of science and industry leaders at the White House on Friday that the executive order marked "a new era of American leadership in space."
The new council will coordinate between civil, commercial and military space projects, and even shape the future of NASA, to which the Trump administration has yet to nominate an administrator.
The first such council was active from 1958 to 1973, and former President George H. W. Bush rebooted it during his single term in 1989, but a quarter-century since it last disbanded, Trump hinted at what will make this incarnation different.
"I think the privatization of certain aspects is going to play a very crucial role, don't you think?" Trump said.
With the advent of SpaceX, Blue Origin and other private aerospace companies launching satellites and preparing for "space tourism," it would seem an appropriate time for a new direction in public policy. But some are not so optimistic, as Ars Technica reports that the gathering in the White House's Roosevelt Room consisted almost entirely of traditional NASA contractors such as Boeing and Lockheed Martin.
"If you were not with Alabama or SLS, you weren't getting into the event today," an official involved in the new space community told Ars. "They didn't want any commercial space there."
Alabama is where the Marshall Space Flight Center is located, which handles the Space Launch System, or SLS rocket. Peter J. White, a former staffer for Alabama Congressman Mo Brooks (R), was the primary voice behind the language of the executive order, Ars reported.
Builders of NASA's SLS rocket and Orion spacecraft were present at the ceremony, but absent were the respective owners of SpaceX and Blue Origin, Elon Musk and Jeff Bezos, though they were invited on short notice, according to Ars.
READ MORE: 'Not good for America or world': Musk abandons Trump advisory role after Paris deal withdrawal
The event didn't lack star power, however, as the renowned Apollo 11 astronaut Buzz Aldrin stood next to Trump during his remarks. Aldrin, of course, was the second man to walk on the moon minutes after Neil Armstrong did so in 1969.
Just before Trump put pen to paper to sign the National Space Council executive order, he quipped about outer space, "There's a lot of room out there, right?"
Aldrin promptly responded, "To infinity and beyond!" which drew laughter from attendees.
"This is infinity here," Trump then said. "It could be infinity. We don't really don't know. But it could be. It has to be something – but it could be infinity, right?"
Trump then gave Aldrin the signing pen.
READ MORE 'No flags & footprints': Buzz Aldrin's plan for colonizing Mars means no more ISS
You can share this story on social media: