Ex-doctor with gun under white coat kills 1 in Bronx hospital, then himself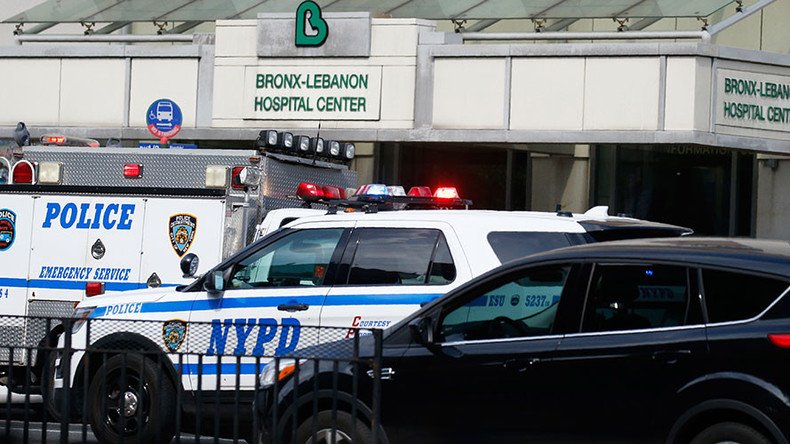 At least two people were killed in a shooting at the Bronx Lebanon Hospital in New York City. The gunman, a disgruntled former employee, killed himself after shooting several people and killing one doctor at work. The shooter has reportedly been identified as Dr. Henry Bello.
New York Police have also confirmed six additional shooting victims, five of whom were taken to the hospital's emergency room, and one person who was shot in the leg.
New York Mayor Bill de Blasio addressed reporters around 5:30pm confirming that one of the dead victims was a doctor at work in the hospital.
"There are several doctors who are fighting for their lives right now, amongst those who are wounded," de Blasio said.
"Thank God this was not an act of terrorism," the mayor added, but rather an "isolated incident."
A 911 call was made as shots rang out just before 3:00pm local time on the 16th and 17th floors of the hospital, located in the Mt. Eden area of The Bronx.
The suspect, identified as Dr. Henry Bello, 45, was a former employee who practiced family medicine, local media reported based on police sources.
NYPD Commissioner James O'Neill did not officially name him, but confirmed the suspect's relationship to the hospital during a press conference.
Police also said the suspect was wearing a white lab coat and carrying a rifle. He tried to set himself on fire, police said, triggering a fire alarm. He then shot himself as police approached him.
Bello reportedly resigned from the hospital in 2015 in lieu of being fired, according to WNBC. Citing law enforcement sources, the news outlet reported that Bello had an arrest record, including for sex abuse, turnstile jumping, burglary and public urination. He also reportedly had at least five addresses since leaving the hospital. A web database showed Bello had no disciplinary history with the New York state licensing board, WNBC reported.
Bello was issued a limited two-year permit to practice medicine on July 1, 2014, the Associated Press reported, citing New York State Education Department records. Born in Nigeria, he was allowed to practice as an international medical graduate on his way to becoming licensed.
The AP also reported that Bello resigned from the hospital in 2015 amid sexual harassment accusations.
Three doctors were among the wounded, the New York Times reported, citing a NY Fire Department official. At least one of the doctors was being treated by people inside the hospital, who had used a fire hose as a tourniquet, the official said.
Social media photos from inside the hospital show employees barricading themselves inside, waiting for the police to locate the gunman.
The 120-year-old hospital has almost 1,000 beds and its emergency room is among the busiest in New York City.
You can share this story on social media: