Possible active shooter causes lockdown at Army post outside Huntsville, Alabama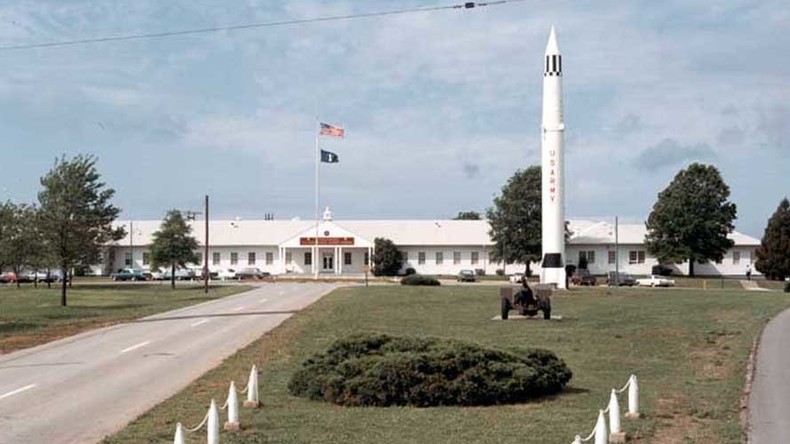 There is an "emergency situation" at Redstone Arsenal, an Army garrison outside Huntsville, Alabama, which may be an active shooter, local news reports. The post has been placed on lockdown, and employees are sheltering in place.
Marshall Space Flight Center and Redstone have both issued alerts. The flight center said there is an "emergency situation" near the Sparkman Center, while the arsenal tweeted about reports of an active shooter.
A second message from Marshall was sent half an hour after the first one, reading: "An active shooter has been reported at the RSA Sparkman Center. Personnel in this area take protective action now. This is not a drill."
Redstone was scheduled to have active shooter training on Wednesday, but officials at the arsenal told the Huntsville Times that this is a genuine incident.
Multiple emergency response vehicles, including police cars and ambulances, have been reported heading towards Redstone.
The arsenal hosts between 36,000 and 40,000 federal employees and contractors a day. It is host to the US Materiel Command, the Army's Aviation and Missile Command, the Pentagon's Missile Defense Agency, and NASA's Marshall Space Flight Center.
Redstone Arsenal opened in 1941 as a chemical weapons manufacturing facility during World War II. After the war, it became home to US rocket research until 1956, when German designers working on ballistic missiles were spun off to become a part of the newly founded NASA.
Marshall Space Flight Center is home to NASA's largest center, focusing on rocketry and spacecraft propulsion. It also hosts the Huntsville Operations Support Center, which supports launches from Florida's Kennedy Space Center to the International Space Station, as well as payload and experiment activities from Cape Canaveral.
A suspicious person has been reported outside the TVA Browns Ferry Nuclear Plant in Athens, Alabama. While the situation has not been elevated to alert status, Limestone County sheriff's deputies are responding with a higher number of units than normal as "an abundance of caution type thing based on what's going on elsewhere," sheriff's spokesman Stephen Young told the Decatur Daily, referring to the lockdown at Redstone Arsenal
The person was supposedly taking pictures of the nuclear plant.
More than two hours after the first reports of an active shooter at Redstone, people are beginning to be allowed to leave the base, though the lockdown is still in place.
The lockdown was lifted around 12:30pm local time, about 2.5 hours after it started, though restrictions remained possible around the Sparkman Center through 3:15pm, Redstone spokesman Christopher Colster told reporters.
"We do not believe there is a threat or we would not have opened the installation back up," Colster said.
Federal, state and local law enforcement are investigating what prompted the report of an active shooter. It is so far unclear if anyone was shot or injured or if there are any suspects.
"I really can't say at this point what happened. I'm not sure myself," Colster said.
The garrison has not made a decision as to whether to continue with Wednesday's planned active shooter drill.