CIA head Pompeo held secret talks with Syrian intel in attempt to release US captive – report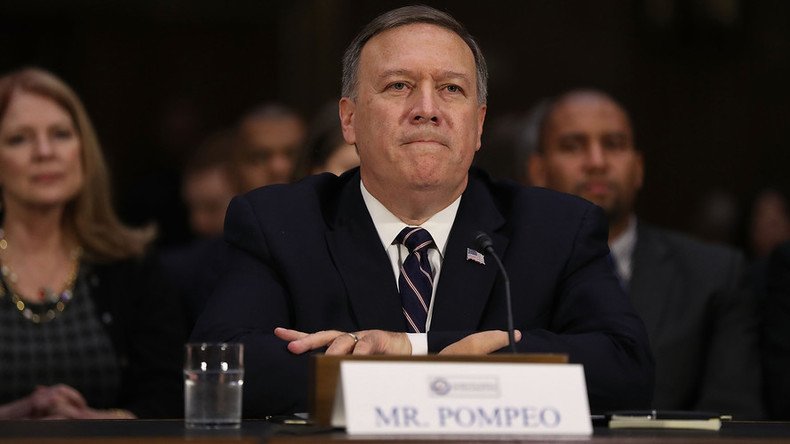 CIA director Mike Pompeo reportedly held low-key talks with Syria's intelligence chief in an attempt to secure the release of Austin Tice, an American reporter believed to have been detained by Syrian authorities almost five years ago.
The talks, said to be the highest-level contact between American and Syrian secret services in years, took place in early February, according to the New York Times.
At the time, Mike Pompeo, as incumbent CIA director, had a telephone conversation with Ali Mamlouk, the head of Syria's National Security Bureau, who is a high-ranking intelligence official subject to US sanctions.
The intelligence chiefs reportedly discussed the fate of Austin Tice, a former Marine captain who was freelancing for the Washington Post, McClatchy Newspapers, CBS, and other news outlets. Back in August of 2012, Tice disappeared in Syria and surfaced a month later in a video showing him blindfolded while surrounded by masked men carrying assault rifles.
American security officials told the New York Times they believe the reporter has been detained by Syrian government forces, but offered no hard proof to back their claims. The Tice family, the CIA, and the FBI declined to comment.
Damascus has rejected the claim, saying it has no credible information on Tice's whereabouts.
"Austin Tice is not in the hands of Syrian authorities, and we don't have any information about him at all," Deputy Foreign Minister Faisal Mekdad, Syria's former UN envoy, told AP last year.
However, officials in Washington maintain Mamlouk or President Bashar Assad's adviser, General Bassam al-Hassan, are aware of Tice.
Some, including former diplomats, have even suggested that the Syrians might try to exploit the situation to re-engage with the Americans, despite the US' unyielding insistence that Assad must be removed from power.
"The Syrian government would like to reduce the extent of its isolation," said Robert S. Ford, who was US ambassador to Syria during the Obama administration.
"The Syrians are a very supple, nasty group. They're willing to talk all the time. That's just how they do business," he said.
The talks between Pompeo and Mamlouk ultimately produced zero results, as the fragile communication between Washington and Damascus was smashed when the US launched a massive cruise missile strike on Syria's Shayrat airbase in April, the NYT said, citing several unnamed American officials.
Two US Navy destroyers fired 59 Tomahawk missiles on the airbase in a strike that Syria saw as a blatant violation of its sovereignty. In addition, the US Air Force shot down a Syrian Su-22 jet flying over the northern part of the country earlier in June. According to a Pentagon statement, US forces acted "in accordance with rules of engagement and collective self-defense."
The US attacks on the Syrian military could further complicate Tice's release, as they have antagonized relations between Washington and Damascus.
In other parts of the world, the US held behind-the-curtain talks with North Korea to free another American in captivity, a 22-year-old University of Virginia student named Otto Warmbier who fell into a coma during his detention. He died on Monday after returning to the US last week.
The CIA is not the only Western intelligence agency allegedly still maintaining secret communication channels with its Syrian counterparts.
In 2015, operatives from the German Federal Intelligence Agency (BND) traveled to Damascus several times to discuss informational exchanges on Islamist extremists and establish a direct communication line to deal with potential crisis situations, such as a German pilot being shot down over Syrian territory, according to a report in Germany's Bild newspaper.
The intelligence agency was also reportedly willing to set up a station manned by a liaison officer inside the shuttered German embassy in Damascus.
You can share this story on social media: