LA deputies kill teenager while shooting at a dog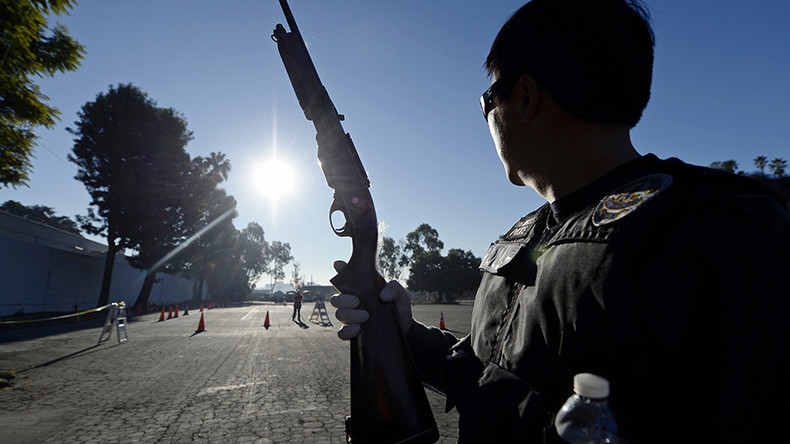 Los Angeles County sheriff's deputies accidentally killed a teenager when bullets meant for an aggressive pit bull terrier ricocheted off the ground and hit the boy, according to authorities.
Five deputies were responding to a loud noise complaint at about 3am Thursday morning in Palmdale, California, when the tragic episode unfolded, according to a statement from the department.
After arriving at the apartment complex, homicide investigators say, a pit bull dog "aggressively charged" at the deputies, biting one officer on the leg. Armando Garcia, 17, came from behind the complex and restrained the animal before taking it behind the residence. Garcia was not the dog's owner.
READ MORE: Fmr LA County sheriff guilty of corruption, faces 20yrs in federal prison
While the officers were on the street awaiting paramedics to attend to the injured deputy, the dog ran out and charged at them, according to the statement.
Two officers opened fire at the animal "from a five to seven feet distance," sending him back to the rear of the building. When officers followed the dog, they stumbled upon Garcia, who was on the ground with a gunshot wound to the chest.
The teen was rushed to a local hospital where he died from his injuries.
"Detectives believe when the juvenile came out from behind the building, which was approximately 40 feet away from where the shooting occurred with the dog, the juvenile may have been struck by one of the skip rounds," read the statement from the department.
Armando, who was the eldest of four siblings and about to enter his senior year, "would give his life for anybody," his mother, Roberta Alcantar, told the LA Times. "He was a very loving person," added Alcantar.
READ MORE: LA County sheriff to spend $300k on gold belt buckles for deputies
A preliminary investigation into the boy's killing found evidence of "skip rounds" on the building's driveway, and the deputy who was bitten was also hit by bullet fragments.
"He may have been struck by one of the skip rounds in what we're calling an extremely, extremely unfortunate incident," said Capt. Christopher Bergner to the LA Times. "Our initial impression was [the deputies] didn't even see the individual coming around from the side of the building."
The sheriff's office say the pit bull will be euthanized "based on [its] condition", and an investigation into the incident is ongoing.