Thunderbird F-16 crashes, flips at Dayton Air Show practice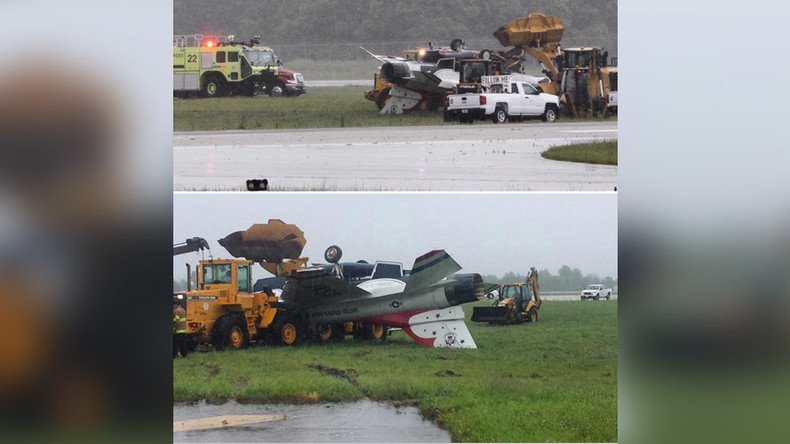 An US Air Force Thunderbird F-16 has crashed and flipped over while practicing for an air show in Dayton, Ohio. Two people are trapped inside the jet, but are reportedly not injured. The Thunderbirds are the Air Force demonstration team.
The pilot will go with CareFlight crew to the hospital, WHIO reported, citing emergency scanner traffic.
There was a "mishap" while a plane was on the ground, according to Staff Sergeant Tabatha McCarthy with the Thunderbirds public relations office.
Wright-Patterson Air Force Base dispatched a crash team and heavy rescue crew to the scene, said Penelope Reed of the Montgomery County Sheriff's Office in Dayton. There were no immediate report of any fuel leaks from the plane.
The ejection seat is still armed, according to scanner traffic.
"The aircraft is as safe as we can make it," said fire crews on emergency scanners.
A medical helicopter was unable to respond to the scene due to heavy rainfall, WHIO reported. The rain is coming down at a rate of more than two inches (5 cm) per hour.
Another F-16 crashed during a training flight on Wednesday at Ellington Field Joint Reserve Base in Houston, Texas. That Fighting Falcon, from a detachment of the 138th Fighter Wing stationed at Ellington Field, crashed on takeoff. The pilot safely ejected.
The 43rd annual air show begins Saturday at the Dayton International Airport. Along with the Thunderbirds, Lockheed Martin's new T-50A aircraft will be featured. A US Navy F/A-18 Super Hornet, an F-35 Lightning II and the Misty Blues All Woman Skydiving Team will also perform. It will serve as a commemoration of the 75th anniversary of the Doolittle Tokyo Raid in World War II, Stars and Stripes reported.
Officials estimated more than 50,000 spectators attended the two-day event last year.
The F-16 Fighting Falcon first entered service in 1979. The Thunderbirds squadrons use "dated aircraft, generally older models," reserving modern aircraft for combat missions, the Dayton Daily News reported. The jets cost approximately $18.8 million apiece.
The Thunderbirds consist of eight pilots, six of whom fly demonstrations, as well as four support officers and more than 100 enlisted personnel. The team was created in 1953 as a military recruitment tool to highlight the skills and professionalism of Air Force pilots. They are also tasked with engaging in community outreach and strengthening morale in the services.
The Air Force demonstration team performs 80 shows a "season," which typically lasts between March and November. Shows are 75 minutes and involve 40 aerial maneuvers.
You can share this story on social media: