Cargo ship that hit US destroyer near Japan was on autopilot, data shows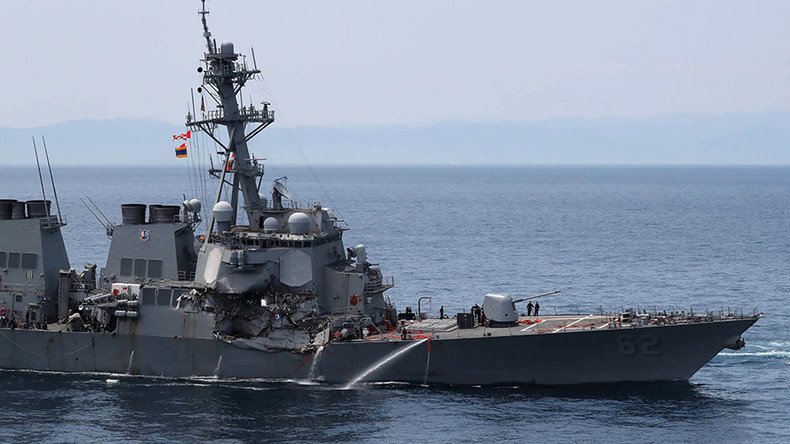 The Philippines-flagged freighter that struck the USS Fitzgerald off the coast of Japan last week was on autopilot at the time, according to tracking data that emerged in the course of the investigation. The collision killed seven US sailors and injured three.
While the US Navy's investigation is ongoing, officials familiar with the preliminary results said the container ship ACX Crystal was under control of a computerized navigation system at 1:30 am local time on June 16, when the freighter broadsided the Fitzgerald about 64 miles off the coast of Japan.
There were no crew members on duty in the pilot house of the Crystal at the moment the freighter collided with the Fitzgerald, the Washington Free Beacon reported. So far, the investigators have found no evidence the collision was deliberate.
The Navy investigators are now trying to determine why the Fitzgerald's radar and sensors did not detect the freighter in time to avoid the collision.
The Arleigh Burke-class guided missile destroyer is equipped with the AN/SPS-64 navigation radar and a commercial radar system. It also has a crew of nearly 300 sailors, and is required to maintain a watch on the bridge at all times.
The Crystal, however, had a crew of about 20 at the time of the collision. Cargo ships like the Crystal are required to broadcast AIS location data, which should have been monitored by the Fitzgerald's crew.
An analysis of that data by the private data analytics company Savi shows that the Crystal slowed down after the collision but continued sailing on its course for about 36 minutes, at which point it turned around and headed back to the collision site. The crash was officially reported at 2:20am local time, nearly an hour after the fact.
"This shows the autopilot was engaged because nobody would power out of an accident with another ship and keep sailing back on course. It's unthinkable," naval analyst Steffan Watkins told the Free Beacon. The fact that the merchant ship did not radio the Japanese Coast Guard for almost 30 minutes also suggests nobody was on the bridge at the time of the accident.
A "Hit and Run" at Sea, as Detected by Sensors: An analysis of the raw data regarding the USS Fitzgerald Collision https://t.co/OdzWB5uP3m

— Bob Hein (@the_sailor_dog) June 23, 2017
The freighter's impact damaged the Fitzgerald's communication systems, forcing the crew to communicate by satellite-based cell phones. It also damaged the commanding officer's stateroom and flooded one of the berthing compartments, causing seven sailors to drown.
Three crew members were injured and had to be flown to Japan by helicopter for medical treatment, including the destroyer's captain, Commander Bryce Benson.
The Fitzgerald is currently undergoing repairs at its home port of Yokosuka, while the freighter is docked in Yokohama, Japan.
You can share this story on social media: