Gunman didn't plan Alexandria baseball shooting, visited Sanders' Senate office – FBI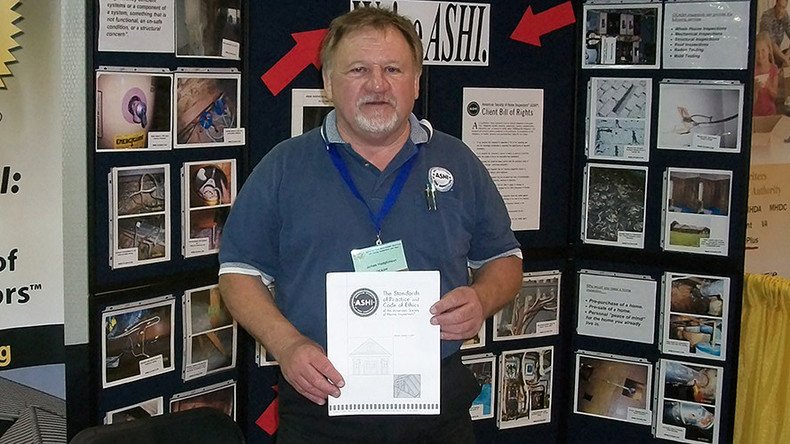 The man who fired on GOP lawmakers at baseball practice had a list of six congressmen on him, and kept the modified rifle he used in a storage unit he often visited, the FBI said. James T. Hodgkinson also tried to meet Senator Bernie Sanders (I-Vermont).
Hodgkinson, 66, fired on House Majority Leader Steve Scalise (R-Louisiana) and other GOP lawmakers last Wednesday morning, during the final practice for the annual charity congressional baseball game. He fired 60 shots as he stalked the Alexandria, Virginia field, injuring Scalise and three others, from a modified 7.62mm caliber SKS rifle and a 9mm handgun before he was killed, likely by Capitol Police officers on Scalise's protective detail.
On Hodgkinson's body, investigators found a list containing the names of six members of Congress, Tim Slater, the special agent in charge of the FBI Washington Field Office, said at a press conference on Wednesday. There was "no context included," though, and Slater would not characterize it as a "hit list" or as individuals being targeted, nor would Slater identify the members on the list in any way.
Hodgkinson legally purchased the rifle in March 2003, and modified it to accept a detachable magazine and replaced the original stock with a folding stock, Slater said. Hodgkinson kept the rifle and the handgun, which he bought legally after the 2016 presidential election, in a storage locker near the field. When they searched the unit, investigators found components for the SKS rifle, a receipt for the November 2016 gun purchase, and more than 200 rounds of ammunition.
The gunman visited the storage locker 43 times between April and June During that time period, he sometimes visited the unit daily, or even multiple times a day, Slater said. Most visits were between 6 and 7am. Last Wednesday, he went to the unit at 6:23am and left it at 6:35am. He began shooting at the lawmakers just after 7am.
Hodgkinson had been living in a van, which was found in the parking lot of the nearby YMCA he visited daily. In it, the FBI found a cell phone, a camera and a computer. The laptop's search history showed Hodgkinson had searched the web for two of the lawmakers on the list, but they were "only cursory" searches, Slater said. Investigators also found indications that Hodgkinson intended to go home to Belleville, Illinois on his computer.
The FBI was also able to piece together more of Hodgkinson's actions since he arrived in DC sometime in late March. He had told his wife he was headed to the nation's capital to work on tax policy.
On April 15, Hodgkinson participated in a tax reform protest. Sometime between that day and April 26, he visited Sanders' office on Capitol Hill. He had volunteered for the independent Vermont senator's presidential campaign ahead of the Iowa caucuses. The gunman did not meet with the senator, a Sanders spokesman told the Washington Post on Wednesday.
Hodgkinson was "known to have an anger management problem," Slater said, describing the gunman as a desperate man "struggling in all kinds of different ways." Hodgkinson was unemployed, his 30-year marriage was not "going so well," he "suffered from taking some prescription medication" and was running out of money, the FBI agent said.
Although Hodgkinson often posted angry, anti-Republican political rants on his Facebook, he "did not place any online posts of threats or references to members of Congress or the Congressional baseball game," Slater said, describing the shooting as more of a spontaneous event than a premeditated one.
Also on Wednesday, Scalise was upgraded from "serious" to "fair" condition. The third-ranking Republican in the House of Representatives suffered a "transpelvic gunshot wound" when the bullet that struck him in the hip fragmented, causing "substantial damage." The 51-year-old had fractured bones, injured internal organs and severe bleeding. He arrived at MedStar Washington Hospital Center "with an imminent risk of death," according to Dr. Jack Sava.
On Saturday, Scalise's status was upgraded from "critical" to "serious" after his third operation. He was more responsive and spoke with his loved ones, the hospital said. As he continued to make "good progress," his condition was upgraded again on Wednesday, allowing him to begin "an extended period of healing and rehabilitation."
Scalise was one of four people who were shot during the incident, while two others ‒ Representative Roger Williams (R-Texas) and Capitol Police Special Agent David Bailey ‒ were injured during the chaos.
Matt Mika, a lobbyist and former congressional staffer, was shot multiple times in the chest and arm, suffered "massive trauma." He was upgraded to "serious" condition at George Washington University Hospital on Thursday. Mika is expected to make a "full recovery," his family said over the weekend. He is still at GW Hospital, but is no longer in the intensive care unit, a hospital representative told RT.
A GoFundMe page for Mika surpassed its initial $20,000 goal by Monday, and passed its second goal of $50,000 on Tuesday. Mika's family is encouraging people to instead donate to a GoFundMe page for Capitol Police Special Agent Crystal Griner, who was shot in the ankle while engaging in a gun battle with Hodgkinson. Griner's page has passed its initial $20,000 goal as well, and is now looking to raise $30,000 for her recovery.
Scalise has received support throughout the Washington, DC area and in his home state of Louisiana. On Wednesday, lawmakers on Capitol Hill wore purple-and-gold fleur-de-lis lapel stickers. The fleur-de-lis is the official symbol of the Pelican State, while purple and gold are the colors of Scalise's alma mater, Louisiana State University. He also got a shout out from Bono at a U2 concert at FedEx Field in Maryland, just outside the nation's capital, on Tuesday night.
Earlier on Tuesday, Rep. Patrick McHenry (R-North Carolina), the deputy whip, organized a blood drive on Capitol Hill that was attended by Vice President Mike Pence, among others.
Zach Barth, a staffer for Williams, was shot in the leg. He was able to attend the annual congressional baseball game on Thursday, albeit on crutches. Bailey, also on crutches after being struck by bullet fragments, threw out the first pitch.
You can share this story on social media: