Handel wins: GOP retains House seat in Georgia special election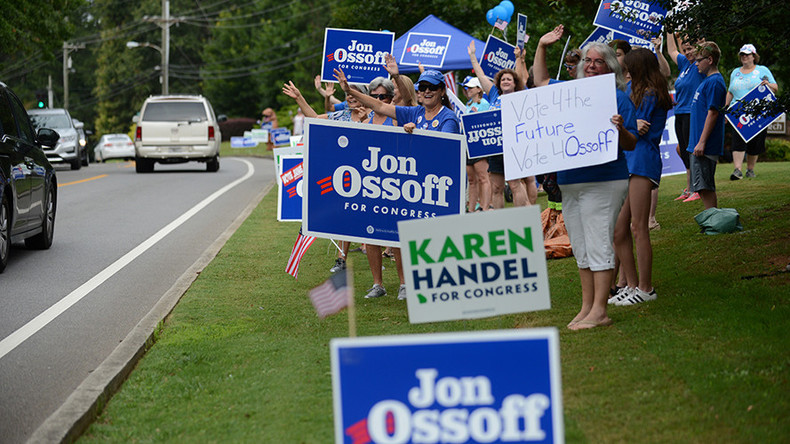 In a nail-bitingly close runoff special election, Republican Karen Handel has defeated Democrat Jon Ossoff for Georgia's 6th congressional district seat, which opened when Tom Price was appointed to be President Donald Trump's health and human services secretary.
With 81 percent of precincts reporting, Handel was declared the winner with 52.5 percent of the vote, compared to Ossoff's 47.5 percent, according to the Associated Press.
Ossoff, 30, a political newcomer, drew national attention to his campaign with the anti-Trump slogan, "Make Trump Furious." Ossoff and his supporters hoped to "flip the 6th," which they would see as a changing tide in the Democrats' favor.
In his concession speech, Ossoff told supporters that tonight represented "the beginning of something much bigger than this."
It's extraordinary what this community has achieved — an unprecedented grassroots effort. Thank you from the bottom of my heart.

— Jon Ossoff (@ossoff) June 21, 2017
Handel thanked many supporters and local and state officials, but it was when she thanked Trump that her crowd burst out in chants of "Trump! Trump! Trump!"
Handel also thanked House Majority Whip Steve Scalise (R-Louisiana), who was shot and left in critical condition during a congressional baseball practice last week.
Trump tweeted Tuesday evening to congratulate Handel on a "big win." The president had increasingly tweeted about the race in the run-up to election day.
Congratulations to Karen Handel on her big win in Georgia 6th. Fantastic job, we are all very proud of you!

— Donald J. Trump (@realDonaldTrump) June 21, 2017
The candidates and lobby groups of both parties spent approximately $60 million on the special election, making it the most expensive congressional race in US history.
Handel cast her ballot in Roswell Tuesday morning and denounced her opponent as being an outsider who couldn't even vote in the election since he did not live in the district.
"He wishes he could vote like me, because he doesn't live in the district," Handel said, according to the Hill. "I've lived here for nearly 25 years and I think that's going to make a big difference to the voters in this district."
Republicans and Democrats both saw the special election as an indicator of where Trump's administration stands and where Congress may be headed in the future.
During the 2016 presidential election, Trump won the district by 1.5 points. Handel was able to retain the district that had been held by Republicans since 1979, even as Trump's approval rating in the district fell.
Voters braved heavy rain Tuesday, with the National Weather Service (NWS) issuing a flash flood warning for DeKalb and Southern Gwinnett Counties until 10:00pm.
Ossoff stood out in the rain with a group of supporters at an intersection, waving at cars and holding up signs.
The race, which garnered national attention, was exceptionally close. On Friday, a WSB poll showed Ossoff leading Handel 49.7 percent to 48 percent.
While many saw the runoff election in Georgia to be a referendum of Trump's presidency, White House Press Secretary Sean Spicer disagreed.
"I think if you look historically, special elections generally don't foretell the outcome of races multiple years down the road. This is a race that the President, or a district that the President won by one point. It's obviously going to be competitive," Spicer said during Tuesday's press briefing.
The hashtag #GA06 was trending as votes were cast and as results came in, with many tweets turning metaphorical in their analysis of the electoral contest. Some alluded to the tens of millions of dollars spent on the race, which ultimately could only pay off for Handel.
House Speaker Paul Ryan (R-Wisconsin) congratulated Handel on "a hard-earned and well-deserved victory."
You can share this story on social media: