F-35s back in the air, despite lingering mystery of oxygen system failures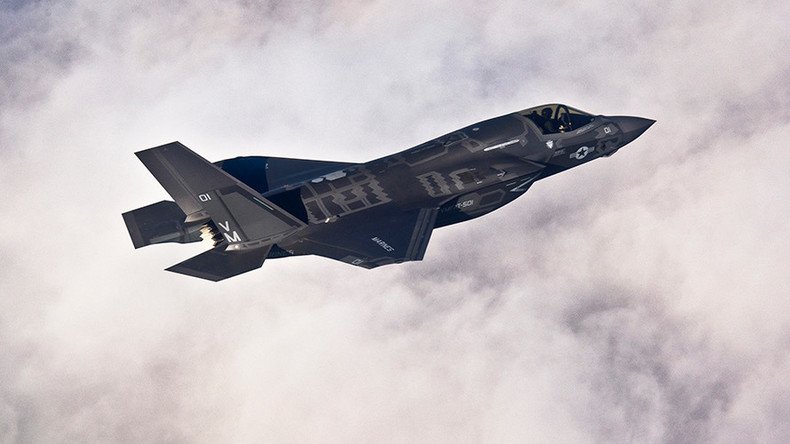 The US Air Force is lifting a grounding order on dozens of F-35s after five pilots suffered hypoxia. The cause of the oxygen-supply malfunction remains unknown, but extra precautions have been ordered as the stealth fighter jets return to action after 11 days.
Following five incidents of hypoxia in pilots between May 2 and June 8, and despite not knowing how the failures occurred, the US Air Force's 56th Fighter Wing will renew its F-35A Lightning II flights on Wednesday, according to a military announcement made Tuesday.
"No specific root cause for the physiological events was identified during recent visits from experts and engineers from the Joint Program Office, Lockheed Martin, the Air Force Research Laboratory and other organizations," the Air Force wing stationed at Luke Air Force Base in Glendale, Arizona, said in a press release.
"However, specific concerns were eliminated as possible causes including maintenance and aircrew flight equipment procedures."
As the most expensive weapons system of all time, the F-35 stealth multi-role fighter jet has enjoyed a mixed reputation. Billed as a transformative force in air warfare, the 19-year-old project has had numerous technological and budgetary setbacks, with its much trumpeted future constantly being called into question.
Most recently, on June 9, dozens of the warplanes operating out of Luke Air Force Base were grounded, due to the five pilots complaining of symptoms ranging from dizziness to tingling in their extremities, the Arizona Republic reported.
The grounding that lasted 11 days was initially expected to be over in just one, and with the cause of the oxygen system failure lingering as a mystery, the return to flight seems to be high priority.
Luke Air Force Base instructors train US Air Force, Navy and Marine pilots, as well as foreign air force pilots preparing to fly one of the three F-35 variants.
On Monday, the F-35 flew in its first major public test at the Paris Air Show. And on Tuesday, it was reported that US military contractor Lockheed Martin was close to sealing deals with 11 countries to purchase 440 of the jets for a total $37 billion.
The Air Force has added five precautions for flying the F-35s from the Luke air base. No longer will the flights reach altitudes where the five affected pilots flew, while minimum levels of backup oxygen will be increased. Pilots will also be given the choice of donning more sensors that collect airborne human performance data, while ground procedures will be changed and psychological training will be expanded for pilots and the medical community.
On Monday at the Paris Air Show, a six-minute air showcase of several F-35s exhibited some impressive acrobatics, including a sharp-cornered loop, slow speed pass over the crowd and a vertical climb, followed by a backflip and a still steeper climb to show off its high angle attack capabilities.
Brigadier General Select Todd Canterbury, director of the Pentagon's US Air Force F-35 Integration Office, told the Associated Press that the F-35 performances "showcase the capability to all our European partners and NATO allies" and were meant "to reassure them that we are committed to NATO 100 percent and that we have got the capability to respond to any action necessary."
The F-35, which includes a near half a million dollar helmet equipped with augmented reality technology, seems on the cusp of revolutionizing air combat, even more so than it has for the last several years amid glitches and bugs.
READ MORE: F-35 report finds 'only thing stealthy' to be 'the price tag'
Last week, 10 nations joined the US in discussions in Maryland, where they toured a Northrop Grumman facility where F-35 equipment is built, Reuters reported. The 10 countries were Australia, Denmark, Israel, Italy, Japan, the Netherlands, Norway, South Korea, Turkey and the United Kingdom.
You can share this story on social media: