Trump travel ban 'unnecessary & unlawful' Hawaii tells SCOTUS after judge narrows injunction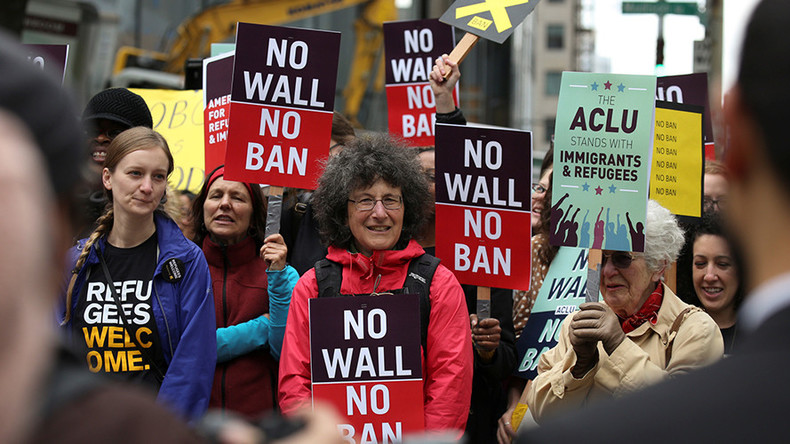 Hawaii has argued to the US Supreme Court that President Donald Trump's revised travel ban is "unnecessary and unlawful" after a federal judge in the state narrowed the scope of his injunction against certain parts of the temporary ban.
On Tuesday, the state of Hawaii filed a supplemental brief with the Supreme Court, arguing that a memo issued by Trump last week "rendered his controversial travel ban and refugee ban both unnecessary and unlawful."
Last Wednesday, Trump issued a memo to his Secretary of State, Attorney General, Secretary of Homeland Security and Director of National Intelligence, instructing their agencies to begin internal vetting reviews and to activate the travel and refugee bans 72 hours after the injunctions are lifted.
The memo was issued two days after the 9th Circuit US Court of Appeals upheld the majority of an injunction issued by US District Court Judge Derrick Watson in March. His injunction blocked the Trump administration from enforcing two sections of their revised travel ban. However, a three-judge panel of the 9th Circuit concluded last week that the injunction was too broad.
The appeals court ruled that the injunction was "not narrowly tailored to addressing only the harms alleged."
The court ruled that the injunction blocked portions that allowed the State Department and the Department of Homeland Security to study immigration policies and conduct internal reviews of vetting procedures, and said that the injunction did not show "how the government's internal review of its vetting procedures will harm [the plaintiffs]."
Hours after the appeals court formally returned control of the case to Watson on Monday, he amended the injunction to exclude "internal review procedures that do not burden individuals outside of the executive branch of the federal government."
The rest of the travel ban remains blocked.
Hawaii's supplemental brief argues that since the purpose of the executive order was to allow the government to conduct their internal vetting reviews, Trump's memo "makes clear that the Order's travel and refugee restrictions are no longer required to accomplish what the Government intended."
"[T]he Government grounded its (unsuccessful) defense of the Order on one key rationale: The travel and refugee bans are allegedly necessary stopgap measures while the Administration conducts a review and upgrade of existing vetting procedures. Both courts saw that rationale for the sham that it was, one that can neither mask the Order's denigration of Muslims nor justify ignoring the immigration laws' finely reticulated limits," Hawaii argues.
"Two days after the Ninth Circuit's decision, the President removed any doubt that the courts were correct."
The Supreme Court is expected to announce this week whether justices will hear the Trump administration's appeals of both the 9th Circuit and 4th Circuit rulings against the ban.