Freeway blocked as 1,000s protest acquittal of officer who shot, killed Philando Castile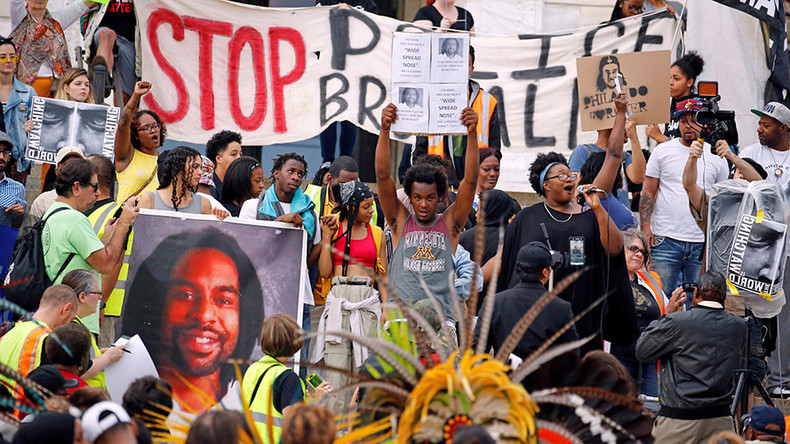 Protesters have blocked Interstate-94 after taking to the streets across St. Paul, Minnesota, following a jury's verdict that found former St. Anthony police officer Jeronimo Yanez not guilty in the 2016 shooting of motorist Philando Castile.
READ MORE: Not guilty: Minnesota jury acquits officer who shot Philando Castile

Police holding wooden batons formed a line to block the crowds protesting on I-94, ordering them to disperse, as heavily armed troops with armored vehicles were positioned nearby. Police have also reportedly closed off the adjacent bridges, leaving the protesters only one way to leave. At least three police buses were reported to have been dispatched.
St. Paul Police have started Facebook live video, showing officers and protesters. No arrests have been made so far, according to police.
Some of the protesters seemed to have complied with the police order, while the rest continued to shout slogans and hold banners in front of the officers.
Eaerlier, a car pushed through the crowd of protesters as protesters tried to stop it, causing some of them to walk onto the onramp of I-94.
Protesters then linked arms and blocked all traffic on I-94 at Dale street, chanting, "whose streets? Our streets" and "shut it down."
Police diverted traffic and warned people to avoid the area.
Several drivers were trapped as the protesters shut down both sides of the freeway, forcing many to turn around and drive the wrong way to exit, causing chaos on I-94.
At 10:30pm, police said the highway was closed between Lexington Avenue and Marion Street. They warned drivers to avoid the area.
After the verdict on Friday, Castile's mother, Valerie Castile, spoke outside the courtroom, saying Yanez got away with murder, but he "will not get away with divine justice."
"The system continues to fail black people and they will continue to fail you all," Valerie said.
A crowd gathered on the steps of the Minnesota State Capitol, with #Justice4Philando organizing an event, calling for the community to come together "to protest this failure of justice!"
At 8:30pm local time, the protesters left the capitol to march down University Avenue to the nearby St. Paul Cathedral and back. The protesters left a sign at the Capitol building that read, "The system is guilty."
Protesters shouted, "Hands up, don't shoot," and "This is what democracy looks like," while holding signs that read "Black lives matter," next to signs that read, "Blue lies matter."
During the march, Unicorn Riot, an independent media collective, reported that a spy plane was circling around downtown St. Paul, where the protesters were marching.
The protesters stayed together, making sure that none of the protesters walked too far ahead or fell behind. Every few minutes, they would stop and do a "mic check" while they marched.
Just after 9:00pm, St. Paul Police estimated a crowd of 1,500 marchers were blocking both sides of University Avenue at Western Avenue.
Mass Transit announced that all Green Line trains stopped operating east of Snelling Avenue due to the demonstrations.
At 9:40pm, the police estimated that the crowds had grown to 2,000 marchers as they turned on Victoria from University.
Along the route, the protesters went over a bridge that crosses the I-94 freeway.
Organizers began directing traffic around the protests as the marchers turned onto Shelby street before they planned to return to the Capitol.
You can share this story on social media: