'No excuse' for N. Korean treatment of Otto Warmbier, father says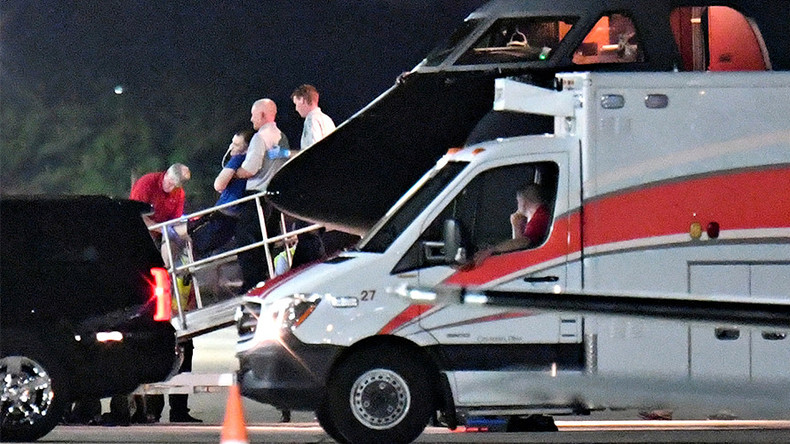 The father of Otto Warmbier, a US student released after 17 months in North Korean custody, says there is no excuse for how his son was treated by Pyongyang. Otto has been in a long-term coma with "extensive loss of brain tissue in all regions of the brain."
The 22-year-old was released and returned to the US on Tuesday, and is being treated at the University of Cincinnati Medical Center for what the hospital spokesman called a "severe" neurological injury after spending months in a coma.
While the North Korean authorities say the coma was caused by botulism and sleeping pills, Fred Warmbier does not believe it.
"North Korea is a pariah regime. They're brutal, they're terroristic," he told reporters at a press conference in Wyoming, Ohio. "We don't believe anything they say."
"I don't know what being in shock is, but I'm pretty sure I was," Fred Warmbier said about the moment the family found out Otto was in a coma. They'd had no word from Otto since March 2016. "There's no excuse for the way North Koreans treated our son."
His son has been in a coma since at least April 2016, according to two MRI scans that were on a disc that arrived with Otto from North Korea, Dr. Daniel Kanter told reporters. The hospital has had no direct contact with North Korean medical authorities, and the only other information they received were a few pages of lab values that "did not shed light on circumstances of his injury or its exact cause."
The MRIs "showed extensive loss of brain tissue in all regions of the brain" in a "pattern usually seen as result of cardiopulmonary arrest," Kanter said.
In a young person like Otto, cardiopulmonary arrest is a rare event, but is enerally caused by an event like "intoxication or traumatic injury," Dr. Jordon Bonomo said, noting that the coma could have been caused by an overdose, but added that it would be "inappropriate to speculate about intent."
The hospital ran a full battery of tests within 24 hours of Otto's arrival, and found "no evidence of an acute or healing fracture." Otto's "skin in good condition and he was well nourished when he arrived at our facility," Kanter said.
Tests did not find any evidence of botulism, Dr. Brandon Foreman said.
The medical team would not comment on their patient's future prognosis, at the request of the Warmbier family.
The elder Warmbier denied the current visit to North Korea by former basketball star Dennis Rodman had anything to do with his son's release, calling it a "diversion." Otto's release was secured via the State Department and the efforts of the Trump administration, he said.
"We were advised by the past administration to take a low profile," and not do anything to offend the North Koreans, Warmbier said.
"Earlier this year, Cindy and I decided the time for strategic patience is over," he added, using the same phrase as Vice President Mike Pence during his April visit to the Korean peninsula.
Warmbier described the family's frustration over having to keep quiet while efforts to release their son went nowhere, and the sense of relief that followed.
"We are not burdened with whatever North Korea says or does any longer," he said.
While steering clear of politics, Warmbier said the results spoke for themselves, and thanked Trump administration officials "for their efforts and concern."
Otto Warmbier was arrested in January 2016 and charged with "hostile acts" against North Korea over allegedly stealing a political propaganda poster from his hotel. After making a tearful confession before the cameras, he was sentenced to 15 years' hard labor.
Fred Warmbier said his son was "lured" to North Korea by a Chinese tourist agency, which advertised "safe" trips for American citizens.
"They lure Americans, they take them hostage, then they do things to them," he said, tearing up as he pointed out to reporters that he was wearing the same jacket Otto wore for his televised confession.
In late May, a bipartisan US lawmakers proposed a total tourist ban to North Korea. On Thursday, the State Department said that any prohibition or change in travel warnings for the reclusive country remains "under consideration."