Schumer joins bipartisan push to block part of Trump's Saudi arms deal
Published time: 13 Jun, 2017 04:58
Edited time: 13 Jun, 2017 09:26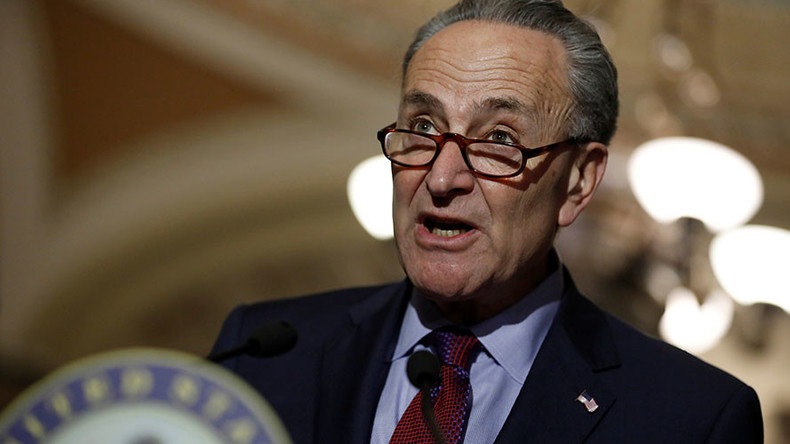 A bipartisan effort to stop a portion of President Donald Trump's $110 billion arms deal with Saudi Arabia just got a big boost. Senate Minority Leader Chuck Schumer (D-New York) cited the Kingdom's human rights violations in Yemen.
Schumer announced Monday that he intends to back a resolution to block a portion of arms sales to Saudi Arabia, citing the country's human rights and humanitarian abuses.
"The human rights and humanitarian concerns have been well documented and are important: of equal concern to me is that the Saudi government continues to aid and abet terrorism via its relationship with Wahhabism and the funding of schools that spread extremist propaganda throughout the world," Schumer said in a statement, according to the Huffington Post.
The joint resolution of disapproval, which was introduced on May 25 by Senators Rand Paul (R-Kentucky), Chris Murphy (D-Connecticut) and Al Franken (D-Minnesota), would block the sale of more than $500 million worth of precision-guided munitions to Saudi Arabia.
Just announced @RandPaul and I are introducing resolution to stop portion of Saudi arms sale that will be used to continue Yemen war.

— Chris Murphy (@ChrisMurphyCT) May 25, 2017
The vote targets an arms sale that was blocked under former President Barack Obama. Schumer previously voted to table a resolution of disapproval sponsored by Paul in 2016, which would have halted a deal with Saudi Arabia for Abrams tanks.
On Monday, Paul went on CNN to voice his concern with Trump's Saudi deal. Paul cited the fact that 15 of the 19 hijackers involved in the World Trade Center attacks on September 11 were from Saudi Arabia, and many insiders have said that the Kingdom is giving weapons to Islamic State (IS, formerly ISIS/ISIL).
"I can list 20 reasons why I'm very concerned about giving them weapons, but one of those things also coming up this week is we're unhappy with Iran for developing ballistic missiles. Well, guess what? Iran develops them in response to Saudi Arabia getting more weapons."
Franken, a co-sponsor of the resolution, cited Saudi Arabia's war in Yemen, which he called "a tragedy that we cannot continue to support."

"We need to stand up for our values and ensure that the US no longer turns a blind eye to the indiscriminate killing of children, women, and men in Yemen," Franken said in a statement.