Grand jury indicts Texas deputy & husband for the murder of John Hernandez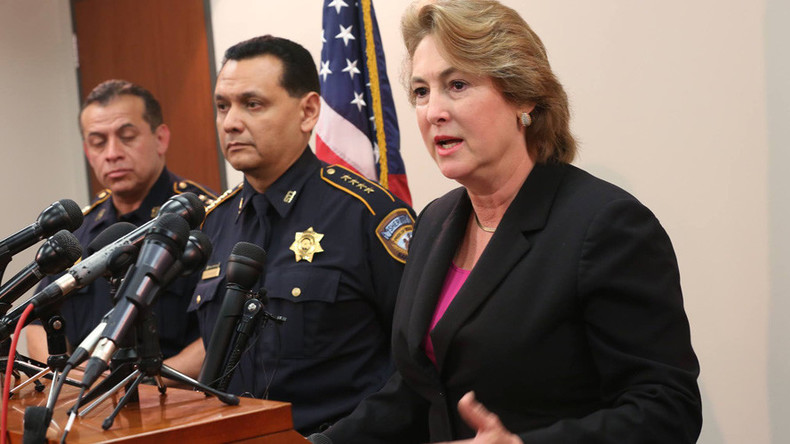 An off-duty sheriff's deputy and her husband have been indicted for murder after the husband choked a man in a Denny's parking lot in Houston. The man later died from those injuries, according to the medical examiner.
Sheriff Deputy Chauna Thompson, 45, and her husband, Terry Thompson, 41, were both indicted for the murder of John Hernandez, 24, District Attorney Kim Ogg said at a news conference Thursday.
"We believe this grand jury's true bill is a reflection of our community's belief that a crime occurred and that that crime was murder and it was participated in by Terry Thompson and his wife, Deputy Chauna Thompson," Ogg said. "We grieve with the Hernandez family and we wish them Godspeed during this difficult time."
More than a dozen witnesses testified, and a grand jury reviewed the autopsy report, the findings of the medical examiner and saw video evidence that was also released to the public. Ogg said Chauna and Terry were offered the opportunity to testify, but they both declined.
Ogg said that the couple participated in the murder under Texas accomplice law, which states that a third party is considered responsible if that person "solicits, encourages, directs, aids, or attempts to aid the other person to commit the offense."
The DA added that while they are investigating if the crime should be considered a hate crime, the grand jury has only moved on allegations of murder.
During the news conference, Ogg said that Chauna and Terry have been ordered to turn themselves in immediately, otherwise, a fugitive task force is standing by.
"We hope we don't need anything like that, there's no indication that we would," Ogg said.
Harris County Sheriff Ed Gonzalez told reporters that Chauna has been "cooperative" during the process.
The couple faces five years to life in prison if convicted. Bond has been set at $100,000 each, according to KTRK.
"This is exactly what we wanted," said Jose Morales, a close friend of the Hernandez family, according to the Houston Chronicle. "Thanks to all the attention, justice is going to be served."
It began on May 28, when Terry saw Hernandez urinating in public view at a Denny's parking lot. Thompson confronted Hernandez and a fight broke out. During the scrap, Terry put Hernandez in a chokehold for 10 to 15 minutes, according to witnesses.
During the fight, Chauna, who was off-duty at the time, arrived at the restaurant in a separate vehicle and allegedly helped restrain Hernandez.
Hernandez's wife and 3-year old daughter were also pleading with the Thompson's to stop, but the couple did not listen.
"She was crying and telling (the man beating Hernandez) stop and he didn't even stop," Hernandez's wife said, according to KHOU. "I told him, 'Please stop. Don't do that to him. He's drunk.' He wasn't in any position to fight. But, he didn't have any compassion. He was really angry."
Hernandez was later rushed to the hospital where he was pronounced dead three days later.
The Harris County medical examiner said Hernandez died from a lack of oxygen to the brain caused by strangulation and chest compression, according to the Houston Chronicle.
After Hernandez died, family members and friends pressed for Chauna and Terry to be arrested. Others joined them and a large group marched to city hall.
Scot Courtney, an attorney for Terry Thompson who says his client was acting out of self-defense, thinks the grand jury process was rushed by the protesters and they did not have time to consider all the evidence.
"It's disappointing that citizens can simply march on the courthouse and demand somebody be indicted for murder," he said, according to the Houston Chronicle.
Ogg said that the process happened faster than usual, but that it was a "strategic decision" to ensure all the evidence could be presented.
"I think the community spoke loudly and clearly yesterday, but I didn't want to be reactive," Ogg said. "For us, it was a strategic decision to take the case to the grand jury as opposed to direct file and it was done for evidentiary purposes. We wanted everybody to get the chance to testify."
You can share this story on social media: