'Valve turner' climate activist guilty of oil pipeline tampering, faces 10yrs in prison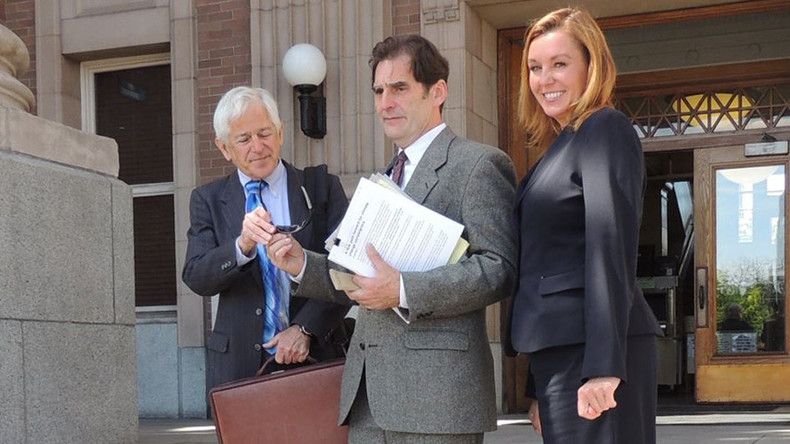 A jury in Skagit County, Washington, has found climate activist Ken Ward guilty of burglary for his actions during a coordinated protest in October, where activists shut off pipelines carrying Canadian tar sand oil.
On Wednesday, Ward, 60, was found guilty of second degree burglary for closing a safety valve on the Kinder Morgan Trans Mountain Pipeline and blocking the flow of oil to the Anacortes refineries. The jury deadlocked on a second charge of sabotage.
Ward faces a maximum sentence of 10 years in prison and a fine of up to $20,000. His sentence hearing is set for June 22, according to Jay O'Hara, a fellow activist at the Climate Disobedience Center.
READ MORE: Dakota Access Pipeline set to flow oil, as public commission considers violation rulings
Ward's attorney said the defense team focused on conveying Ward's intentions to stop harm brought on by climate change.
"We sort of likened these actions to those of people who engaged in the Boston Tea Party and who risked their liberty," Lauren Regan told Vice News. "That in many ways, particularly in regards to Trump pulling out of the Paris Accord, and the fact that the government seems unable to adequately protect the public from exacerbating climate change, that it may be that the people are going to act on their own behalf to protect their communities and their futures."
This is the second time Ward has been tried for his actions. He initially faced three felony charges and one misdemeanor charge, which carried a 30 year sentence. In January, a different jury was unable to reach a verdict and a mistrial was declared.
During his testimony in the first trial, Ward was able to show the jury evidence of the effects of climate change could have on the planet, according to an article he wrote for EcoWatch.
However, during his retrial, Ward was not allowed to use the "necessity defense," to show that his crimes were necessary to prevent a greater harm.

"The judge did not allow us to offer what is called a necessity defense in which we would have been able to argue to the jury that yes, I did what I did, but I did it for this greater purpose dealing with this larger crisis," Ward told Oregon Public Broadcasting.
Ward added that he plans to appeal his case.
Ward was one of five activists known as the "Valve Turners," who took part in the #ShutItDown pipeline protests organized by the Climate Disobedience Center last October. Other activists carried out similar acts of civil disobedience in Montana, North Dakota and Minnesota, stopping all pipelines carrying oil from Canada's tar sands to the US.
Ward broadcast the act live on Facebook, with footage showing him cutting two chains to enter the valve site and closing the valve as part of a coordinated protest.
Following his arraignment last October, Ward released a statement that said his direct action was the only effective way to stop the effects of climate change.
"I am a responsible and law abiding citizen," Ward said. "I did these things because I believe that it is the obligation of every thinking person to find a way to stave off climate cataclysm, and there is no effective, legal alternative to personal direct action."

The Kinder Morgan Trans Mountain Pipeline has experienced over 80 spills in the past 70 years, including two that exceeded more than 1,000 barrels of oil, according to data from TransMountain.