Hung jury in criminal case against Oregon climate change activist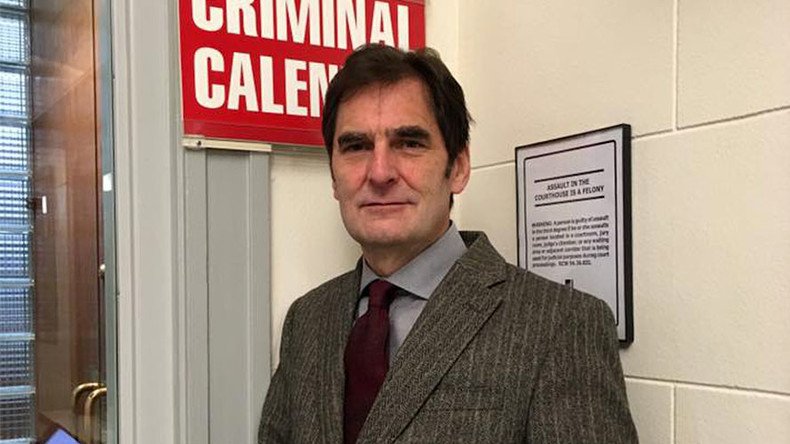 A mistrial was declared on Thursday in the criminal proceedings against environmental activist Ken Ward, who was facing three felony charges after he shut off a valve on the Washington state pipeline to stop the flow of tar sands oil last October.
The Skagit County jury couldn't reach a verdict on any of the charges after deliberating for five hours, following the two-day trial.

"I was quite astonished really. We provided them with a video of exactly what I did, and the judge didn't allow us to present the kind of necessary defense that would have given a concrete basis for a jury not to convict so I was quite surprised and heartened," climate activist Ken Ward told RT.
The trial took two days and the jury deliberated for five hours. Ward said the charges against him include burglary, criminal sabotage, and assemblage of saboteurs.
"I don't have any regrets and think it is right thing to do," Ward explained. He said he had been working on environmental issue for the past 40 years and on climate change for the last 15 years.
"It is clear to me that engaging in this kind of non-violent civil disobedience on climate is by far the most effective thing one can do by almost any measure," he said. "Certainly the things I care about most which in engaging and emboldening activists themselves this is huge, and it's growing."
Going around the country and giving talks to activists with other 'valve turners' was a lot more effective than lobbying and policy work, Ward argued.
Ward was facing three felony charges and one misdemeanor charge for breaking a lock and shutting off a valve on the Trans Mountain Pipeline in Burlington, Washington state on October 11, 2016 in an act of civil disobedience. The pipeline transports tar sands oil into the US from Canada for refinement. Ward was facing 30 years in jail if convicted of all charges.
Ward broadcast the act live on Facebook, with footage showing him cutting two chains to enter the valve site and closing the valve as part of a coordinated protest. Activists carried out similar acts of civil disobedience in Montana, North Dakota and Minnesota. Nine were arrested.
Ward's legal team had planned to argue a "necessity defense" which would have claimed that Ward in his three decades of activism had exhausted all legal options of stopping climate change, and the government, through its inaction, had forced him to break the law.
A week before the trial began, Judge Michael Rickert said he wouldn't allow Ward's attorneys to go that route.
"I don't know what everybody's beliefs are on [climate change], but I know that there's tremendous controversy over the fact whether it even exists," Judge Rickert said, according to the Guardian. "And even if people believe that it does or it doesn't, the extent of what we're doing to ourselves and our climate and our planet, there's great controversy over that."
Over the course of the two-day trial, Ward said he was not allowed to offer "whole swaths of climate science" in defense, and couldn't discuss earlier activism. Ward had previously served as the deputy director of Greenpeace USA.
Ward thinks Skagit County prosecutors could call for a new trial as early as next week.
"I would do it again. I think it by far the most effective thing, the almost needed thing at the moment especially with given our current political environment under President Trump," Ward told RT. "We are living under what is in effect the first fossil fuel administration."
Environmental activists Patrick Mazza told reporters after the court announcement: "This is phenomenal. The jury was out for five hours and there were no facts in dispute here so even though the judge didn't allow that climate information introduced in the trial as a 'necessity defense.' "
"There is a lesson in this that ordinary people who feel a call of conscience will respond. They won't just sit down to authority."
"I would encourage people to resist, engage in direct action if you can, and at very least raise your voice about the importance of moving on climate, raise it to your elected officials. They don't hear it from people. ...Get engaged. Find a local group to work with. If there is no group, create a group."
You can share this story on social media: