Philadelphia police seek youths who filmed themselves sucker-punching mentally-challenged man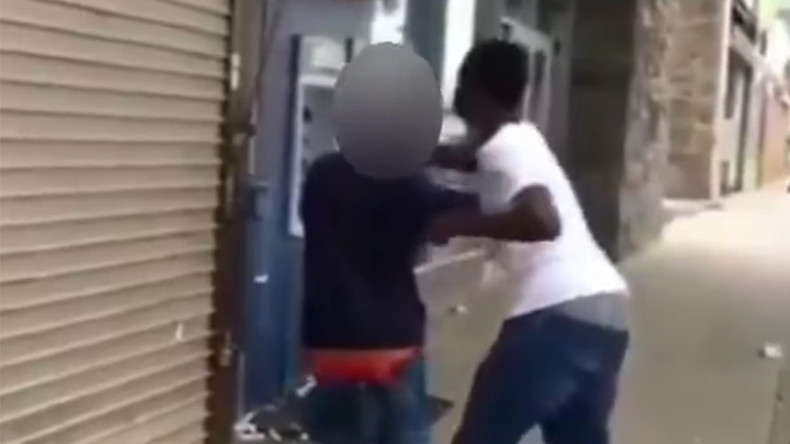 Police in Philadelphia, Pennsylvania are tracking a group of juveniles who, seemingly unprovoked, attacked a mentally-challenged man with sucker punches. The teens filmed the assault and posted the video on Facebook, where it's gone viral.
The short video, filmed in slow-motion, showed a man – identified by a co-worker as "Mark" – who seemed distracted as a juvenile male winds up and punches him in the jaw. The man reels from the punch, and is then pursued by another juvenile, who punches him in the side of the head.
It's yet unknown who originally posted the video on Facebook, according to the Philadelphia Inquirer.
Gerald Andrews, the man's co-worker, said he posted the video to his Facebook page to call attention to what happened.
"He keeps that smile on his face. He wants to talk sports. He's a good guy," Andrews told the Inquirer of Mark, his co-worker at a ShopRite in Philadelphia.
"It's heartbreaking," Andrews added.
Philadelphia police are seeking the public's help in identifying the five male youths in the video, according to reports.
"Obviously, what is depicted in the video is very disturbing," said police spokesman Segeant Eric Gripp, according to the Inquirer. "We would implore anyone who has info on the video, or who knows the identity of the victim to reach out to police."
As of late Monday, the video had been viewed more than 100,000 times, according to reports.
The attack comes about a month after a Delaware man was caught on surveillance video punching a man with cerebral palsy at a gas station outside of Philadelphia. The attacker was arrested earlier this month, according to AP.