Calls for White Supremacist's arrest after sucker punching woman at 'Battle of Berkeley' (VIDEO)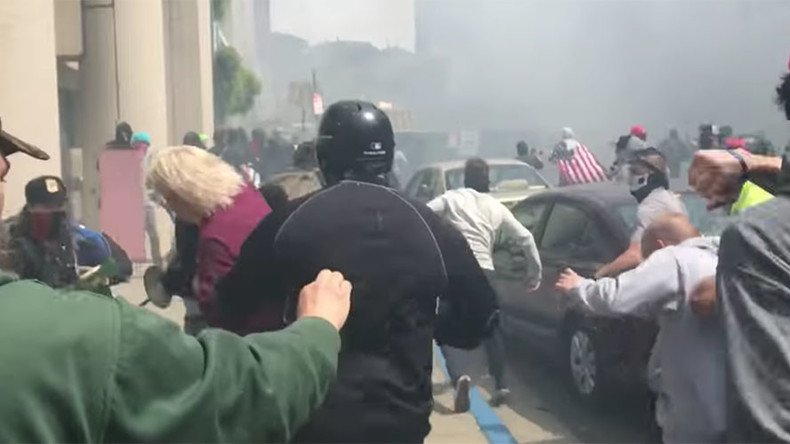 Video of a white supremacist punching a woman in the face at a protest in Berkeley on Saturday has triggered calls for the man's arrest. Nathan Damigo, a former Marine and convict, is also seen assaulting others at the protest.
In the video, posted to WeAreChange.org, pro-Donald Trump demonstrators and counter-protesters can be seen clashing at the Berkeley rally that saw hundreds gather at Martin Luther King Jr. Civic Center Park. At least 20 were arrested during the protest.
Here are more images of the Trump supporting white supremacist Nathan Damigo, the coward who sucker punched a WOMAN in Berkeley today pic.twitter.com/j6mkNHfhH6

— Tariq Nasheed (@tariqnasheed) April 16, 2017
The man wearing a blue shirt in the video is Nathan Damigo, a former convict and social sciences student at California State University.
Damigo, who calls himself "Fashy Haircut" on Twitter, is a former Marine who was released with an "other than honorable" discharge from the military, and served five years in prison for assault and armed robbery after pulling a gun on a Middle Eastern cab driver, the Southern Poverty Law Center reports.
RT has verified that the video was taken at the Berkeley protests, cross-referencing the footage with other videos, images and media coverage from that day. Damigo is clearly identified by the clothes he is wearing.
He also broadcast a Periscope video from his Twitter account which shows he was at the protest, wearing the same clothes. Other protesters featured in the footage have also been seen in other video and media content from the protest.
The girl, Louise Rosealma, is carrying a camera and appears to have been attempting to break up the violence before she is hit.
A GoFundMe page has been set up for Rosealma and has raised over $4,000 . It says that she has been targeted by alt-right supporters who have threatened to kill and rape her.
There have been calls for Damigo's arrest online in the wake of the incident and Berkeley Police Chief Andrew Greenwood responded saying relevant information would be passed on to investigating officers.
Damigo, who was interviewed by The Young Turks in December, is a self-proclaimed white nationalist. He set up Identity Evropa, which promotes "European identity among people of European heritage."
He gained his "new perspective" in prison, allegedly inspired after reading former Ku Klux Klan leader David Duke's book.
His website sells "AltRight starter packs" of alt-right stickers, including one saying, "Equality is a false god."
You can share this story on social media: