Trump was clear I should try & restore US-Russia ties – Tillerson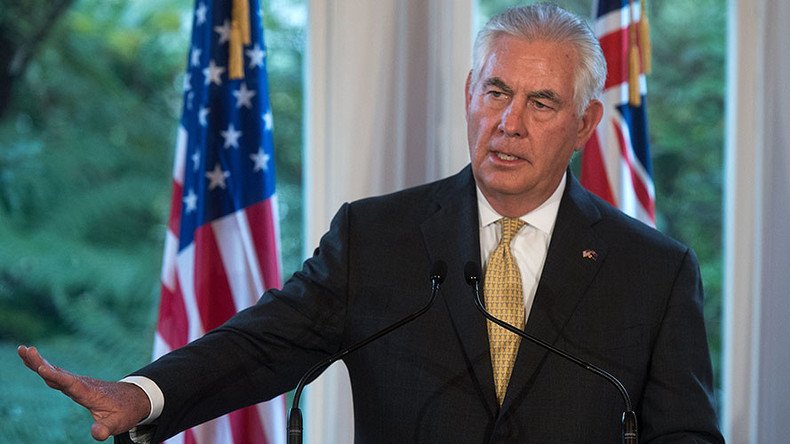 The US president instructed his secretary of state to try and mend the relationship with Russia, despite the hype in Washington, Rex Tillerson told journalists. The relationship between the two world powers is currently at its lowest in decades.
"The president's been clear to me: do not let what's happened over here in the political realm prevent you from the work that you need to do on this relationship and he's been quite clear with me... that we might make progress," Tillerson said during a visit to New Zealand on Tuesday, as cited by Reuters.
During his election campaign, President Donald Trump said Washington was interested in having better relations with Russia, which fanned accusations by his political opponents that he was secretly collaborating with Moscow.
His administration has been plagued by questions over alleged connections with Russia.
"I can't really comment on any of that because I don't have any direct knowledge," Tillerson told reporters when asked to comment on the issue.
"We do believe that engaging globally remains important and we will be seeking ways to remain engaged and there are many ways we can do that, through the UN intergovernmental panel on climate change as well as economic and trade forums that we will obviously be very active in as well," he added.
While welcoming possible reengagement, Moscow maintains much depends on the new administration. Russian President Vladimir Putin has recently described the US-Russia relations as being at their lowest since the end of the Cold War.
Putin said Moscow will continue talking with the Trump administration in order to normalize relations, but the goal requires political will and a "readiness to solve issues of mutual practical interest."
"Normalization of bilateral relations is in the interest of the two countries. And we will continue the appropriate dialogue with the new US President Trump and the new Administration," Putin said during the St. Petersburg International Economic Forum last week.
READ MORE: Putin calls on American business to help restore dialogue between US and Russia
Tillerson himself recently acknowledged that the detente between Moscow and Washington will be no easy task. In mid-May, he said the US "cannot erase the past."
"I think terms like having a reset are overused. You cannot reset. You cannot erase the past. You cannot start with a clean slate. And we're not trying to start with a clean slate," Tillerson said on the NBC's Meet the Press.
"We're starting with the slate we have. And all the problems that are on that slate. We don't dismiss any of them. We don't give anyone a free pass on any of them. They're part of the entire nature of the discussion we're having with the Russians," he added.
Relations between the two world powers deteriorated rapidly following the 2014 coup in Kiev which toppled Ukraine's President Viktor Yanukovich. After Crimea's reunification with Russia in March 2014 following a referendum in the republic, the Obama administration imposed economic sanctions on Russia, while NATO initiated a massive military build-up in Eastern Europe.
You can share this story on social media: