US newspaper circulation slumps to 'lowest since 1945' despite some digital gains – study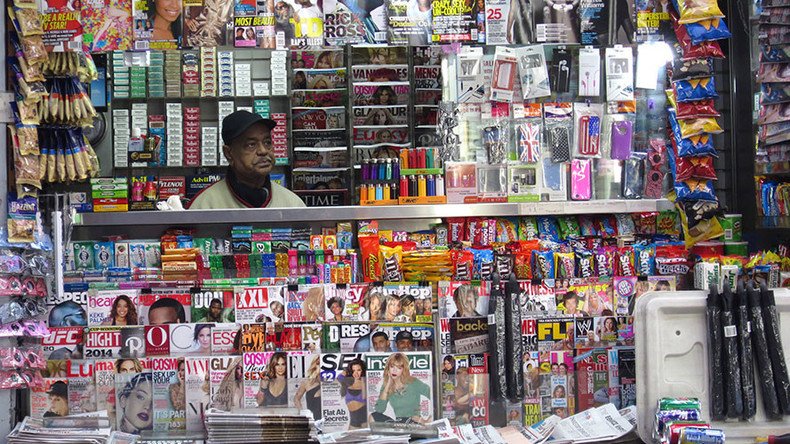 Though digital subscriptions are surging for the largest US newspapers, estimated industry circulation and revenue fell overall, the Pew Research Center found. Americans now read newspapers at levels not seen since 1945, but there's growth in cable news.
Among the findings are US newspaper circulation, including print and digital, fell 8 percent in 2016 for both weekday and Sunday editions to 35 million and 38 million readers, respectively, the study estimates.
"[T]he lowest levels since 1945," Pew said, in its annual study on the "state of the news media," released Thursday.
Weekday print circulation decreased 10 percent and Sunday newspaper readership fell 9 percent.
"Newspapers are a critical part of the American news landscape, but they have been hard hit as more and more Americans consume news digitally," Pew said. "The industry's financial fortunes and subscriber base have been in decline since the early 2000s, even as website audience traffic has grown for many. Meanwhile, alt-weekly papers have also seen their circulation drop."
Pew stated that digital circulation is more difficult to gauge, it estimated trends to be fairly flat, with weekday down 1 percent and Sunday up 1 percent.
"Following last year's presidential election, some major US newspapers reported a sharp jump in digital subscriptions, giving a boost to their overall circulation totals," Pew researcher Michael Barthel said in a statement. "The newspaper industry as a whole, however, faced ongoing challenges in 2016."
The primary reason is that "more and more Americans consume news digitally," the report explained.
Among the study's other findings are that three of the largest US daily newspapers reported a jump in digital subscriptions, with the New York Times adding more than 500,000 digital subscriptions in 2016, a 47 percent rise; the Wall Street Journal added more than 150,000 digital subscriptions, a 23 percent rise; and the Chicago Tribune added about 100,000 weekly digital circulation, a 76 percent year-on-year gain.
In a commentary on WGBH in 2016, Dan Kennedy, an associate professor of journalism at Northeastern University, said the biggest obstacle for attracting readers is that customers are already paying hundreds of dollars a month for broadband, cell service and their various digital devices.
"It's not crazy for them to think that the content should come included with that, as it does (for the most part) with their monthly cable bill," said Kennedy. "Those who wag their fingers that newspapers never should have given away their content overlook the reality that customers had none of those extra expenses back when their only option was to pay for the print edition."
Kennedy said the paywalls also interfere with how people now consume news, skipping around the internet, checking with multiple sources.
"To wall off content runs contrary not just to what news consumers want but to the sharing culture of the internet," he added.
Pew said circulation data is estimated because the industry has stopped releasing data about print editions, and there are varying standards in reporting digital readership.
Revenues also demonstrate a downward trend.
Total estimated newspaper industry advertising revenue for 2016 was $18 billion, a decrease of 10 percent from 2015, and just one-third the level of 10 years ago, based on Pew's analysis for financial statements for publicly traded newspaper companies.
Circulation revenue was estimated at $11 billion, largely unchanged from 2015.
For cable news, 2016 was a year of strong gains, and became "the destination for political news," especially in 2016 during the presidential election, Pew found.
"These channels have generally set themselves apart from other news media by their comparatively robust business model," Pew said.
Its analysis of Nielsen Media data found that viewership increased for cable news channels in 2016 in prime time by 55 percent to 4.8 million viewers.
Total revenue across the three major channels, Fox, CNN and MSNBC, was projected to increase by 19 percent in 2016, to a total of nearly $5 billion, according to Pews's analysis of SNL Kagan data.
The three channels were projected to grow their profits in 2016, a combined 29 percent.
Revenue for three major financial networks (CNBC, Fox Business and Bloomberg) saw increases in total and license fee revenue, while ad revenue was flat.
Cable news could take a hit in 2017 as a new poll released on May 24 showed that nearly two-thirds of US voters believe that the mainstream media is producing so-called "fake news."
Many also believe that fake news is purposely published to push an agenda. Fox News appears to be hurt the most by viewers' mistrust.
Across the political spectrum, 65 percent of voters believe there is a lot of fake news in the mainstream media, including 80 percent of Republicans, 60 percent of independents and 53 percent of Democrats, according to the latest Harvard-Harris poll provided exclusively to The Hill. In total, 84 percent of voters said it is hard to know what news to believe online.
Those numbers have increased since the end of March, when six in 10 Americans believed the mainstream media report fake news regularly or occasionally, with 54 percent thinking that online news websites report fake stories on purpose to push an agenda, according to a Monmouth University poll. A whopping 80 percent of respondents believed that online outlets report fake news regularly or occasionally.
You can share this story on social media: