No.1 US automaker GM to cut jobs at Michigan plant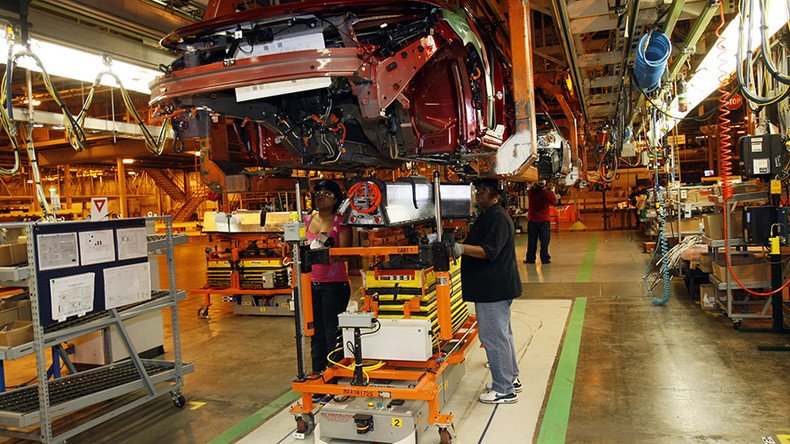 General Motors plans to cut more jobs, this time at a Warren, Michigan plant. Estimates are the plan could affect 300 positions despite the firm saying it would invest $1 billion in US factories, creating 1,000 jobs.
The automaker said on Thursday the cuts – which will eliminate one of two shifts that make transmissions – will happen late June, and will help it "maintain more stable production."
"Recent actions to reduce passenger car production have caused us to adjust transmission production," GM told CNBC in a statement.
"This action will help maintain more stable production and provide the smallest impact to plant employment going forward."
The company wouldn't say how many jobs would be affected, but CNNMoney reported the cuts could affect about 300 positions.
This is the fifth time GM has eliminated a work shift at a US plant since last November, cutting a total of 5,000 jobs. Shifts have been eliminated at the Lordstown, Ohio plant, the Detroit Hamtramck plant, and two plants in Lansing, Michigan.
About 700 of the GM workers who were laid off are expected to get their jobs back next year as GM ramps up production again.
President Donald Trump met with the 'Big Three' American automakers ‒ GM, Ford Motor Company and Fiat Chrysler ‒ in late January, and threatened them with a 35 percent tariff on cars produced outside the US. In return, Trump pledged to cut regulations and taxes to make it more attractive for companies to work in the US.
Before taking office, Trump repeatedly blasted GM for making cars in Mexico. Despite this criticism, the company announced in early January that it had no plans to move small car production from south of the border to the US. Three days before Trump's inauguration, however, GM said it would invest $1 billion in US factories, creating 1,000 jobs.
The measure was said to be part of the regular business process, not a political step, with the corporation reportedly aiming to re-equip its factories to build new models. GM also planned to take extra steps to boost US employment, including employing new engineers. Nonetheless, Trump took claimed for the announcement.
GM "committed to invest billions of dollars in its American manufacturing operation, keeping many jobs here that were going to leave. And if I didn't get elected, believe me, they would have left," the president said at a news conference in February.
The company has had seven straight years of increasing sales, but in 2017 car sales have slowed and the automaker is trimming production so as not to be stuck with too many unsold vehicles, according to CNNMoney.
The current incarnation of the company, General Motors Company, was formed in 2009 following the bankruptcy of General Motors Corporation, which became Motors Liquidation Company. The new company purchased the majority of the assets of the old GM, including the "General Motors" brand.
The announcement comes as the car manufacturer is the target of a lawsuit filed on May 25 in a Detroit federal court, which claims GM pickups with Duramax diesel engines have three devices on them that are rigged to allow more pollution on the road than during government lab tests.
The lawsuit alleges the trucks emit two to five times the legal limit of harmful nitrogen oxide. Also named in the lawsuit is Robert Bosch LLC, which made GM's electronic diesel controls.
GM denied the claims in the suit, calling them "baseless," and promised to "vigorously defend" against the charges.
Bosch said it was taking the "allegations of manipulation of the diesel software very seriously" and cooperating with the various investigations, Linda Beckmeyer, a company spokeswoman, said in a statement.
Diesel engines have been under scrutiny worldwide after Volkswagen admitted that its diesel cars cheated on tests.
By the end of last year, GM had 105,000 US employees, up from 97,000 at the end of 2015, according to a company filing in February.
You can share this story on social media: