Hate on display: Noose found in DC African American museum & N-word scrawled on celebrity LA home
Published time: 1 Jun, 2017 03:54
Edited time: 2 Jun, 2017 09:01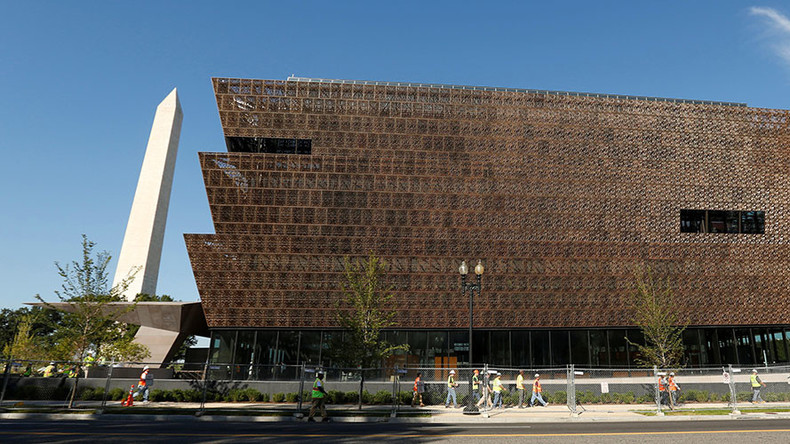 A noose was found at the Smithsonian's National Museum of African American History and Culture in Washington, DC, on the same day that a spray-painted racial slur was seen on the home of NBA star LeBron James in Los Angeles.
The Smithsonian National Museum of African American History and Culture (NMAAHC) reported that a noose was found by tourists visiting the segregation section of the museum on Wednesday.
Park Police removed the noose within three hours and reopened the exhibit gallery, officials with the Smithsonian said. An investigation into the incident is ongoing, but the Smithsonian has assured the public that the museum is safe.
NMAAHC founding director Lonnie Bunch released a statement via Twitter late Wednesday, calling the incident "a painful reminder of the challenges that African Americans continue to face."
"The noose has long represented a deplorable act of cowardice and depravity – a symbol of extreme violence for African Americans," Bunch said. "This was a horrible act but it is a stark reminder of why our work is so important."
The incident comes only four days after a noose was found hanging from a tree outside the Hirshhorn Museum, which is located across the National Mall from the NMAAHC. In their release, the Smithsonian also cited several recent instances that have happened across the country in recent months.
READ MORE: FBI aids in 'hate crime' investigation of bananas hung from nooses at American University
"The Smithsonian family stands together in condemning this act of hatred and intolerance, especially repugnant in a museum that affirms and celebrates the American values of inclusion and diversity," the institution's secretary, David Skorton, told the staff in an internal email. "We will not be intimidated."
Los Angeles mansion spray-painted with N-word
Earlier Wednesday, a spray-painted racial slur was spotted emblazoning the front gate of NBA star player LeBron James's house in the Los Angeles neighborhood of Brentwood.
Police are investigating the incident as an act of vandalism and a possible hate crime, LAPD Officer Norma Eisenman told the Los Angeles Times.
The graffiti was covered up before police arrived, Sandoval said, according to the Chicago Sun-Times. Sandoval added that the incident may have been captured on surveillance video.
In a news conference Wednesday, James said that his family was safe, but he added: "It just goes to show that racism will always be a part of the world, a part of America."
"No matter how much money you have, no matter how famous you are, no matter how many people admire you, being black in America is — it's tough," James said. "And we've got a long way to go, for us as a society and for us as African Americans until we feel equal in America."