FBI aids in 'hate crime' investigation of bananas hung from nooses at American University
Published time: 4 May, 2017 04:09
Edited time: 5 May, 2017 07:27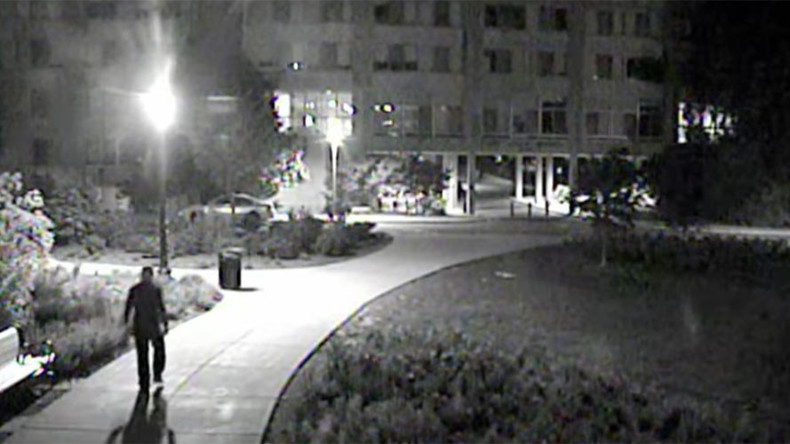 The FBI is helping an investigation at American University in Washington, DC, where campus police say African American students were targets of a "hate crime" involving bananas for the second time this year.
Bananas were found hanging from "string in the shape of nooses" in three places around the university campus, according to a memorandum from Interim Vice President of Campus Life Fanta Aw.
"These racist, hateful messages have no place in our community. The safety of our students is paramount," Aw wrote in the memorandum.
The bananas were marked with the letters "AKA," a reference to Alpha Kappa Alpha, a sorority on campus which is predominantly comprised of African-Americans.
Other bananas were marked with the words "Harambe Bait" referring to the gorilla that was killed at the Cincinnati Zoo last year.
On Tuesday, campus police released two surveillance videos of the suspect in an effort to uncover who was behind the incident. The videos show a figure moving through the campus at 4am. The person's face was not clear in the footage.
AU campus police are offering a $1,000 reward for information leading to a positive suspect identification, according to a memo that referred to the incident as a "hate crime."
University officials held a town hall meeting Tuesday to discuss the incident, but students from several campus organizations walked out after 45 minutes, according to the Eagle, the student newspaper.
Students then staged a "mass withdrawal" from the school, with dozens of students marching to the registrar's office to request withdrawal forms in protest.
Phillip Morse, director of the AU police department, said he has communicated with the FBI and will meet with the meet with a Civil Rights Division officer as part of this investigation, according to the Eagle's Twitter account.
According to WUSA, the FBI is offering federal resources to aid the investigations, but will not file any charges until they find any federal laws have been broken.
Last month, one of the members of the sorority, Taylor Dumpson, became the first black female president of the student government. The bananas were found the same day Dumpson began her tenure as president.
In her first statement as president, Dumpson called the incident "disheartening and immensely frustrating."
"This is not what I imagined my first letter to you all would be," Dumpson wrote. "In my first message to the student body, I would have wanted to talk about accountability, transparency, accessibility, and inclusivity. Now more than ever, we need to make sure that members of our community feel welcomed and above all, safe on this campus."
University President Neil Kerwin called the incident a "crude and racially insensitive act of bigotry" in a letter to students.
"Know that American University remains committed to principles of diversity, inclusion, common courtesy, and human dignity, and acts of bigotry only strengthen our resolve. Anyone who does not feel similarly does not belong here," Kerwin wrote in his statement.
In September, two different African American female students reported racially based incidents involving bananas. One student white male students put boxes of rotten bananas outside her door and drew obscene images on her whiteboard, while another student reported having bananas thrown at her, according to the Eagle.