Homelessness in LA jumps over 20% in 1 year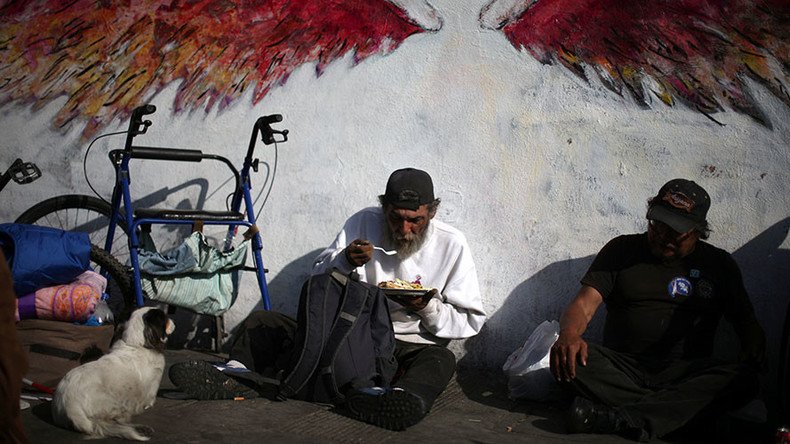 The homeless population in Los Angeles County, California went up 23 percent in 2017, quadrupling last year's percentage increase. The fastest growing demographics were young people, Hispanics and military veterans.
An annual report on homelessness was released by the Los Angeles Homeless Services Authority (LAHSA) on Wednesday, showing a sharp rise in the homeless population across nearly every statistical category in Los Angeles County. The total number of people experiencing homelessness on a given night reached 57,794, a 23 percent increase from 2016, according to the report
Los Angeles County Supervisor Janice Hahn called the report "shocking."
"Even as work is being done to get thousands of people off the street and into housing, more and more people are becoming homeless. It is clear that if we are going to end the homeless crisis, we need to stem the overwhelming tide of people falling into homelessness," Hahn said in a statement.
The homeless population increased across all age groups, especially among young people aged 18 to 24. The number of homeless youths jumped 64 percent over the past year, more than any other age group. The second-fastest growing sector was among youths under the age of 18, at 41 percent.
The number of homeless youths in LA who are considered "unsheltered," or those whose primary residence is "not designed for or ordinarily used as a regular sleeping accommodation for human beings," rose by 81 percent from the previous year.
In total, three out of every four of the homeless counted in the report were considered to be unsheltered.
While African Americans remained the largest racial group, making up 40 percent of the homeless population, the Hispanic population grew by 63 percent, far more than any other ethnic group. The population of white homeless people dropped by 2 percentage points since 2016.
The number of veterans who experience homelessness on a given night increased by 57 percent from 2016, while the number of veterans who were considered to be unsheltered increased from 53 percent to 73 percent in the last year.
At the same time, the number of military veterans placed into permanent housing decreased 5 percent from 2015 to 2016.
The report attributes the surge in homelessness to the fact that the median cost of rent in LA has been rising much faster than median income.
READ MORE: LAPD officers escape charges after killing unarmed homeless man on Skid Row
According to a report from the California Housing Partnership Corporation, the median rent in Los Angeles County increased by 28 percent from 2000 to 2015. During that time, the median renter household income has declined by 8 percent.
"There's no sugarcoating the bad news," Los Angeles Mayor Eric Garcetti said at a news conference, according to the Los Angeles Times. "We can't let rents double every year. I was particularly disappointed to see veteran numbers go up."
Garcetti said that the City of Los Angeles, which has seen a 20 percent rise in homeless population, "is in the midst of an extraordinary homelessness crisis that needs an extraordinary response. These men, these women, these children are our neighbors."
LAHSA called for more than a half million affordable rental homes in LA that very low income households could afford.
In November, the city of Los Angeles passed Measure HHH, which is expected to raise $1.2 billion for the construction of 10,000 units of permanent supportive housing over the next decade, according to the Mayor's office. In March, LA county passed Measure H, which will provide an estimated $355 million annually for services and programs to combat homelessness.
READ MORE: Tax the rich, give to the poor: LA County seeks to use millionaires' money to assist homeless
Due to the measures passed in the city and the county, more than 14,000 people have been moved out of homelessness and into permanent housing in 2016, a 30 percent increase from 2015 and a 61 percent increase from 2014.
"Imagine how we would feel if there had been no Measure HHH. Imagine how we would look today if there had been no Measure H," LA county Supervisor Mark Ridley-Thomas said, according to the Daily Mail. "This would be a very different conversation."
You can share this story on social media: