'They stood up to hate & intolerance': Trump pays tribute to Portland stabbing victims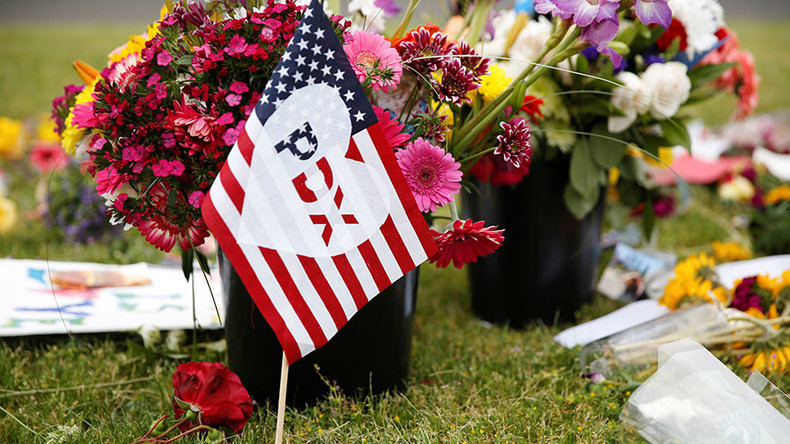 US President Donald Trump has condemned the killings of two men in Portland Friday, describing the victims as defenders against hate speech and intolerance.
Taliesin Myrddin Namkai-Meche, 23, and Rick Best, 53, were stabbed to death and another person sustained injuries after intervening in an Islamophobic attack against two women on board a local commuter train in Oregon's largest city.
READ MORE: 2 killed, 1 injured while attempting to stop Islamophobic attack in Portland
Trump tweeted from the official presidential account Monday to denounce the "violent attack" and offered his prayers to the victims.
The violent attacks in Portland on Friday are unacceptable. The victims were standing up to hate and intolerance. Our prayers are w/ them.

— President Trump (@POTUS) May 29, 2017
The president had come in for sharp criticism for failing to address the killings publicly before now.
.@realDonaldTrump I'm a reporter in Portland. Do you have a comment about what happened here Friday night? Thanks.

— Rob Davis (@robwdavis) May 29, 2017
Trump tweeted 2x today celebrating a candidate that assaulted a journalist but has said nothing yet about the 2 heroes murdered in Portland.

— Brian Klaas (@brianklaas) May 28, 2017
Trump's tweets today...

4 About Fake News
1 Congratulating a man who assaulted a reporter
1 About Europe trip

0 Denouncing Portland attack

— Tony Posnanski (@tonyposnanski) May 28, 2017
Jeremy Joseph Christian, a known white supremacist, is charged with two counts of aggravated murder, one count of attempted murder, two counts of intimidation in the second degree, and one charge of being a felon in possession of a restricted weapon. He is due to appear in court this week.
The suspect's Facebook page includes antisemitic and neo-Nazi material. In one post he praises Oklahoma City bomber Timothy McVeigh, calling him a "true patriot." Ahead of a right-wing "March for Free Speech" on April 29 in Portland, Christian describes himself as a political nihilist. A number of his posts criticize anti-fascist groups, dubbing them "fascist."
On November 11, he wrote that he could not bring himself to vote for Trump even though he said he would.
On January 23 he posted: "If Donald Trump is the Next Hitler then I am joining his SS to put an end to Monotheist Question."
On January 25, however, he posted: "Sanders/Stein 2017". He then added that the people have the right to "change any government by any means necessary."
Three separate fundraising campaigns have been launched online for the families of the victims of the attack. So far the funds raised have totaled nearly $1 million.
Friends of Micah Fletcher, who survived knife attack on MAX train Friday , posted this on a gofundme site to raise money for his recovery: pic.twitter.com/FL2trDw0hX

— Maxine Bernstein (@maxoregonian) May 29, 2017
One of the teenage girls who was harassed on the train before the stabbing posted a video online Sunday evening thanking the well wishers for their support and asking for privacy.