'Sick sense of humor': Clown with 'bloody' machete spooks California motorists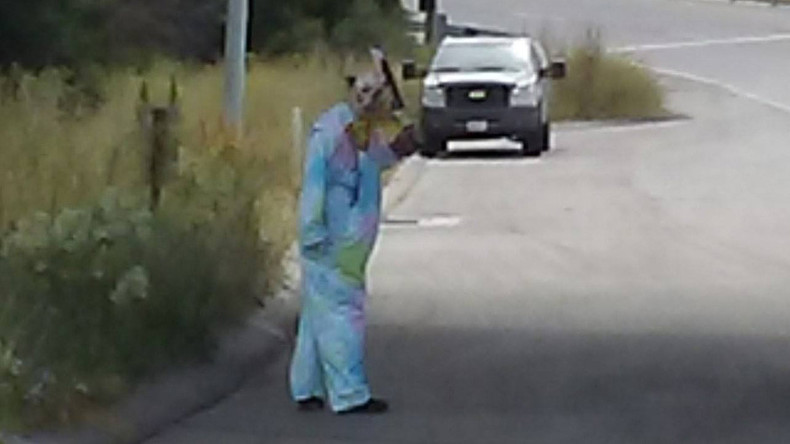 A man dressed as a clown stood along Highway 101 in central California brandishing a machete covered in fake blood on Wednesday afternoon, leading motorists to call the police. Officers questioned the man, but determined he had committed no crime.
Larry Allen Tovey, 61, was wearing white and red face makeup and a clown-like gown as he stood on the shoulder of 101, glaring at motorists passing by, according to KSBW.
Tovey allegedly was clutching the machete in one hand, while holding out a pointed thumb with the other, as if he were attempting to hitch a ride, KSBW reported.
The scene elicited multiple 911 calls to police in Monterey County, authorities said.
Deputies with the Monterey County Sheriff's Office approached Tovey with guns drawn, the sheriff's office said in a Facebook post.
"It can be fun to dress up as a clown, right?" the sheriff's office said in the Facebook post. "However, if you do please don't stand in the side of highway 101 at San Juan Rd holding a machete. Larry Tovey, from Gilroy, did this today and startled a few people who called 911. Two deputies contacted Larry, with their guns drawn, and eventually figured out what he was up to."
Tovey, reportedly about 6'2" tall and 230 pounds (188cm, 104.3kg), was handcuffed and questioned by law enforcement, Monterey County Sheriff's Cmdr. John Thornburg said. In the end, he was not arrested, but told to leave the area.
"He didn't actually threaten anybody. He just had a sick sense of humor," Thornburg explained, noting "they let him go home."