Montana GOP candidate charged with assault after 'body-slamming' reporter
Published time: 25 May, 2017 17:42
Edited time: 26 May, 2017 15:59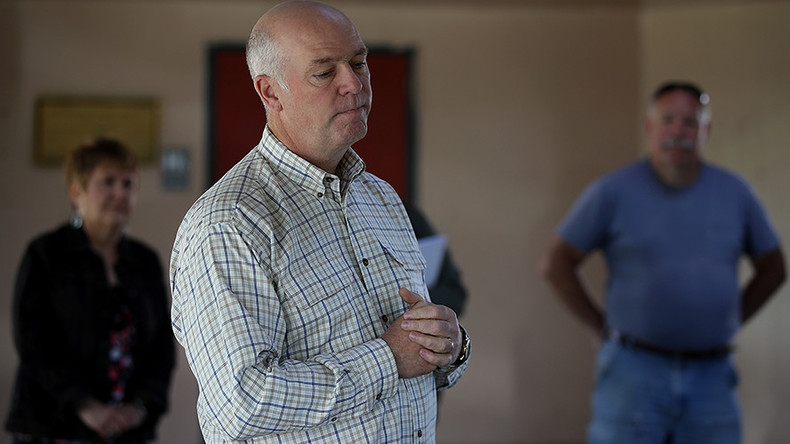 Montana Republican congressional candidate Greg Gianforte has been charged with assaulting a reporter hours before polls were due to open on Thursday for a special election.
The alleged altercation took place at Gianforte's campaign headquarters in Bozeman, Montana, on Wednesday. The tech millionaire was in a side room with a local television news crew when Guardian reporter Ben Jacobs attempted to ask his question about the Republican healthcare bill.
"He took me to the ground," Jacobs told the Guardian. "I think he whaled on me once or twice… He got me and I think he hit me… This is the strangest thing that has ever happened to me in reporting on politics."
Jacobs reported the incident to the police. The Gallatin County Sheriff's Office said there were four witnesses to the incident, in addition to Gianforte and Jacobs. It completed its investigation and "determined there was probable cause to issue a citation to Greg Gianforte for misdemeanor assault," Sheriff Brian Gootkin said in a statement.
Gootkin said the nature of the injuries did not meet the statutory conditions for felony assault.
Gootkin added during a Thursday afternoon press conference that deputies made contact with Gianforte at the scene, realized he was accused of assault, but never brought him into custody. Then, upon shifting their focus to the alleged victim and witnesses, Gianforte left the scene on his own accord. Hours later, Gianforte's lawyer contacted the sheriff's office, Gootkin told reporters.
Reporters also asked Gootkin about any conflict of interest he might have, as he was a donor to Gianforte's campaign and knew him personally. Gootkin responded that the questions were not related to the investigation.
Gianforte's campaign didn't deny Jacobs' claim, but countered with its own statement that the reporter had provoked the altercation.
"Jacobs was asked to leave," the statement read. "After asking Jacobs to lower the recorder, Jacobs declined. Greg then attempted to grab the phone that was pushed in his face. Jacobs grabbed Greg's wrist, and spun away from Greg, pushing them both to the ground."
"It's unfortunate that this aggressive behavior from a liberal journalist created this scene at our campaign volunteer BBQ."
Three Fox News employees witnessed the attack, which was also captured on an audio recording.
"I'm sick and tired of you guys," Gianforte is heard saying. "The last guy who came here did the same thing. Get the hell out here. Get the hell out here. The last guy did the same thing. Are you with the Guardian?"
"Yes! You just broke my glasses," Jacobs replied, according to the audio recording.
Fox News Channel reporter Alicia Acuna, who was preparing to interview Gianforte at the time, said the candidate "grabbed Jacobs by the neck with both hands and slammed him to the ground."
Acuna, her field producer and photographer then "watched in disbelief as Gianforte began punching the reporter," she wrote on the Fox News website.
House Democrats on Thursday called for Gianforte to withdraw his candidacy from the special election after the incident and further called for Republicans to take steps towards an apology.
"Speaker [of the House Paul] Ryan and the National Republican Campaign Committee should not waste another minute before publicly denouncing their candidate and apologizing for the millions of dollars they spend on his behalf," spokesman Tyler Law said in a statement, according to the Hill.
"There's never a call for physical altercations," Ryan (R-Wisconsin) told reporters on Thursday. "I do not think it is acceptable behavior, but the choice will be made by the people of Montana."
Gianforte was favored in the state where Republicans have held its lone House seat for two decades and where Trump won by more than 20 percentage points in the 2016 presidential election.
Gianforte is running against Democrat Rob Quist, a banjo-playing folk singer and first-time candidate.
Millionaire Gianforte has touted his willingness to work with President Trump
Quist, who reported raising $6 million for the race, has urged voters to send Republicans a message about healthcare.
Gianforte says he supports the effort to repeal Obamacare but has not backed the Republican bill passed by the House.
Three local newspapers have since withdrawn their endorsements for Gianforte.
Many voters cast their ballot early, so it will be hard to know the impact of the charge on the election results. Of the 699,207 registered voters, 37 percent have already submitted absentee ballots, according to state election officials, according to AP.
Gianforte and Quist are seeking to fill the US House seat left vacant when Ryan Zinke resigned to join Trump's cabinet as secretary of the Interior Department.
If convicted, Gianforte could face a fine of up to $500 or be imprisoned in country jail for up to six months, or both.