Reporter arrested at W. Virginia Capitol for 'asking questions' to US health secretary (VIDEOS)
Published time: 10 May, 2017 12:42
Edited time: 11 May, 2017 10:52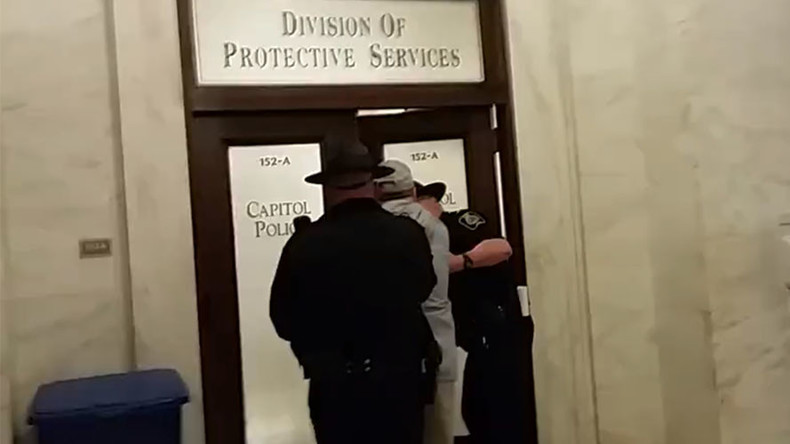 A reporter was arrested at the West Virginia State Capitol for allegedly trying to ask the Health and Human Services secretary a question about the Trump administration's healthcare plan. Authorities say he "aggressively breached Secret Service agents."
Dan Heyman, a journalist with 30 years of experience and currently working with Public News Service, said he was arrested on Tuesday for trying to ask Health and Human Services Secretary Tim Price whether domestic violence would be considered a pre-existing condition under the Trump administration's healthcare plan.
READ MORE: RT talks to woman who faces 1yr in jail for laughing at Sessions' AG nomination hearing (EXCLUSIVE)
"I waited for him to come into the building, and I was recording audio on my phone, and I reached it out to him, past his staffers and the other people who were with him, and I asked him the question repeatedly and he did not answer," Heyman said in a press conference following his arrest.
"And at some point I think the Capitol police got an indication… I think they decided I was just too persistent in asking this question and trying to do my job, and so they arrested me."
Heyman was jailed on the charge of "willful disruption of state government processes" and later released on $5,000 bail.
But the journalist says he was merely doing his job by asking Price questions.
"This is my job. This is what I'm supposed to do. I am supposed to go and find out if somebody is going to be affected by this healthcare law…"
Heyman also said he was never told by police that he was in a restricted area.
"No one who identified themselves as a police officer of any kind, until i was arrested, told me that I should not be where I was…"
The criminal complaint filed against Heyman, however, says he was arrested after "aggressively breaching the Secret Service agents to the point where the agents were forced to remove him a couple of times from the area walking up the hallway in the main building of the Capitol," local news outlet WSAZ reported.
READ MORE: 'Terrible affront to 1st Amendment': Journalist Barrett Brown re-arrested amid media tour
It goes on to state that he caused a disturbance by "yelling questions at Ms. [Kellyanne] Conway and Secretary Price."
A witness at the scene, who appears to be a fellow reporter, said in a video posted by the American Civil Liberties Union (ACLU) that it seems Heyman was arrested because he was "following closer than the officers would have liked him to," adding that she did not see any threats or physical altercations take place.
The ACLU has called Heyman's arrest a "blatant attempt to chill an independent, free press," saying the charges against him are "outrageous."
"This is a dangerous time in our country," an ACLU statement reads. "Freedom of the press is being eroded every day."
Price and Conway were visiting Charleston, West Virginia to hear about the state's efforts to fight opioid addiction, according to AP.
The Trump administration's healthcare plan was narrowly approved by House Republicans on Thursday. The move was the first step in an effort to repeal and replace the Affordable Care Act, commonly known as 'Obamacare.'