'Houdini' of death row: Alabama inmate seeks 8th reprieve
Published time: 24 May, 2017 21:43
Edited time: 25 May, 2017 12:33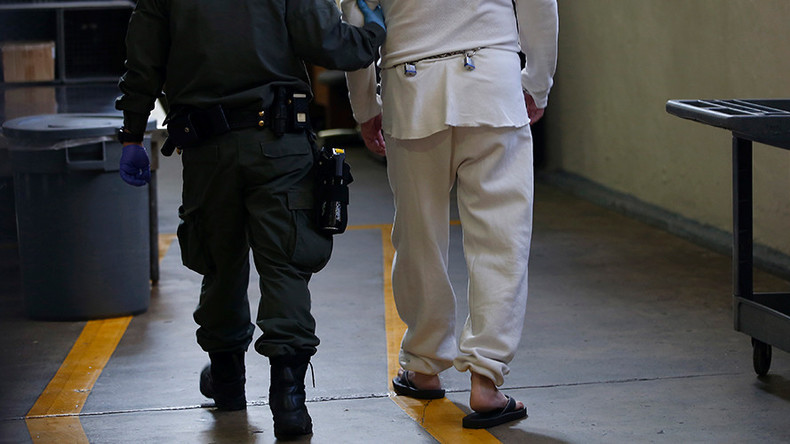 An Alabama death row inmate is scheduled to be executed on Thursday – for the eighth time. While maintaining his innocence, he has made use of creative legal maneuvers to stave off execution with rights advocates sarcastically dubbing him the 'Houdini' of death row.
Tommy Arthur, now 75, is set to be put to death at 6:00pm Thursday at the Holman Correctional Facility in Alabama for the 1982 murder-for-hire of Troy Wicker, according to AP.
His lawyers have begun what is expected to be a flurry of last-minute court challenges.
Wicker's wife, Judy, initially told police she came home and was raped by a 'black man' who shot and killed her husband. Police found Troy Wicker shot through the eye in his bed on February 1 and Judy lying on the floor with blood on her face and her sister kneeling beside her.
Judy Wicker was convicted of murdering her husband Troy to collect insurance money and was sentenced to life imprisonment. She changed her story later and testified she conspired with Tommy Arthur – who wore a wig and painted his face in an attempt to look like a black man before killing her husband.
At the time, Arthur was already on a prison work-release program for the 1977 killing of his sister-in-law. He confessed to that crime but said he only meant to scare his wife by firing a shot over her head. He maintains he did not commit the Wicker murder.
Police were alerted to Arthur after a tip said he had a stack of $100 bills. Arthur claimed he won the money in poker but investigations revealed calls between him and Judy Wicker.
He was convicted in 1983 but the conviction was overturned. While awaiting trial he escaped from jail in 1986 by shooting a jailer in the neck and remained a fugitive for a month. A second conviction followed but was overturned and a third conviction stuck.
At each trial, Arthur asked jurors to give him the death penalty. He said the decision was strategic and would open up appellate reviews.
Arthur won a victory in court Tuesday – before his scheduled execution – when a state appeals court reversed a judge's ruling that rejected Arthur's claim that the legislature, not the prison system, should decide the method of execution.
The court's decision however, won't stop his execution on Thursday at 6:00pm at the Holman Correctional Facility according to the Attorney General's office.
"I consulted with our capital litigation team. The Tomas Arthur execution is not off. No change," Mike Lewis spokesman for the Attorney General's Office told the Birmingham News.
Arthur's attorneys also agreed the ruling does not delay the execution but agrees with their client's motion that the execution should not happen until state lawmakers decide what lethal injection drugs should be used for executions and not the Alabama Department of Corrections.
The prison refuses to reveal which drugs it uses and has withheld a review of public records on the last two executions which Arthur's motion say were botched.
https://www.scribd.com/document/340056507/Tommy-Arthur-Execution-Timeline#from_embed
It is the eighth time since 2001 that the state has set an execution for Arthur. "He's a Houdini," Janette Grantham, director of the Victims of Crime and Leniency organization told the AP. "He always finds a way to escape."
Alabama Attorney Steve Marshall called Arthur's case an "egregious example of how a convicted murder can manipulate the legal system to avoid justice," according to AP.
Arthur insists there is no physical evidence linking him to the scene and that Judy Wicker changed her story as a "get out of jail free card."
He has already won two new trials and over the years his case has stood out to some scholars and lawyers because he has staved off scheduled executions.
He has maintained his innocence, sought new forensic testing of evidence, argued his sentence was unconstitutional, and said his claim of ineffective counsel were never fully considered.
"Am I afraid?" Arthur told the New York Times. "We'll, I'm terrified, but there is nothing I can do about it. All I can do is just hope, and I think my attorneys have some things working and I hope some of them get some traction."