'They're losers, not monsters': Trump slams terrorists behind Manchester bombing (VIDEO)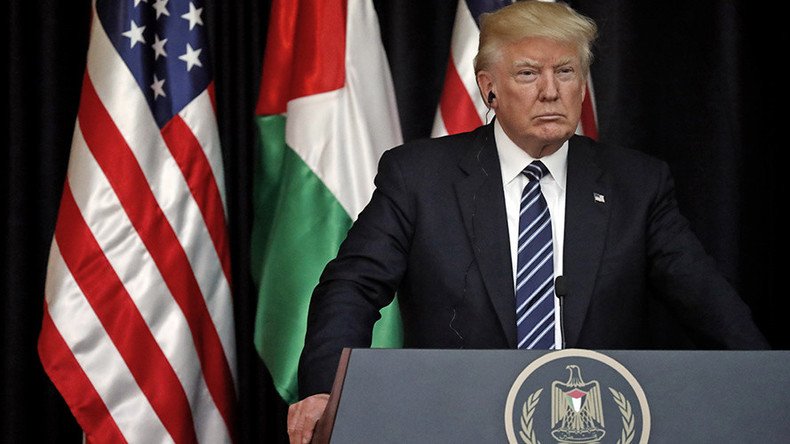 US President Donald Trump labeled the terrorists behind Monday's concert bombing in Manchester "evil losers" after the attack left at least 22 people dead and scores more injured.
Attending a Bethlehem press conference alongside Palestinian President Mahmoud Abbas on Tuesday, Trump expressed his "deep condolences" to the victims of the terrorist attack.
The president, currently on a trip to the Middle East, denounced those responsible for the suicide attack at the conclusion of an Ariana Grande concert as "evil losers."
READ MORE: 'Broken' Grande finds no words to describe sorrow following Manchester concert bloodshed
"We stand in absolute solidarity with the people of the United Kingdom. So many young, beautiful, innocent people living and enjoying their lives murdered by evil losers," Trump said.
"I won't call them monsters because they would like that term. They would think that's a great name. I will call them from now losers because that's what they are, and we'll have more of them. But they're losers," he added.
Manchester police have confirmed that the explosion, which killed at least 22 people and injured 59 others, was the result of a male suicide bombing.
Chief Constable of Greater Manchester Police Ian Hopkins described Monday's attack as "the most horrific incident" the force has had to face.
He added: "We have been treating this as a terrorist incident and we believe, at this stage, the attack last night was conducted by one man.
"The priority is to establish whether he was acting alone or as part of a network.
"The attacker, I can confirm, died at the area. We believe the attacker was carrying an improvised explosive device which he detonated, causing this atrocity."
READ MORE: Moment of deadly Manchester Arena blast caught on dashcam (VIDEO)
Footage believed to be of the blast was caught on dashcam from a nearby car park on Oswald Street. It shows a bright flash coming from the direction of the arena and Manchester Victoria train station.
You can share this story on social media: