'Broken' Grande finds no words to describe sorrow following Manchester concert bloodshed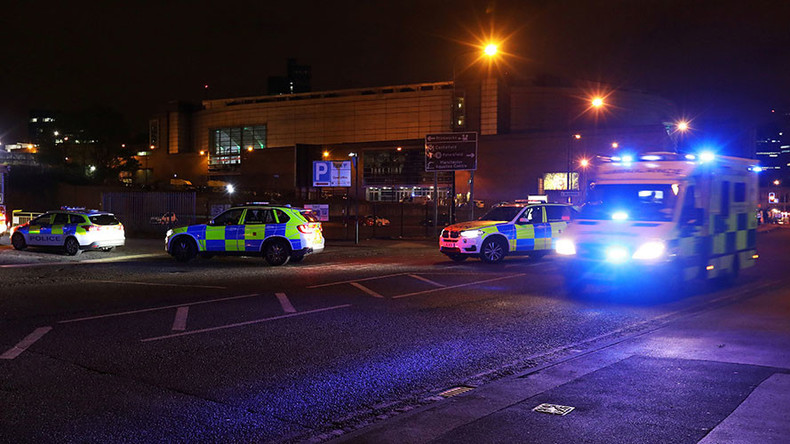 American singer and actress, Ariana Grande, says she is devastated and "broken" following the suspected terrorist attack at the Manchester Arena, where at least 22 people were killed amid scenes of chaos and panic at the end of her concert.
LIVE UPDATES: Manchester Arena explosion
Five hours after an alleged terrorist explosion took the lives of 22 people, the American superstar expressed her devastation over the tragedy on Twitter.
"From the bottom of my heart, I am so so sorry. I don't have words," the 23-year-old star said.
READ MORE: 'Terrorist incident': 22 dead, 50 injured in Manchester Arena explosion
In the immediate aftermath and amid chaotic and conflicting reports of the incident, a representative for Grande told Variety entertainment news that she was "Okay."
"We are deeply saddened to learn of tonight's devastating event in Manchester. Our thoughts and prayers are with all those affected by this tragedy," Grande's music label, Universal Media Group said in a statement.
Manchester Arena, which sits 21,000 people, was packed on Monday night for Grande's performance. But as happy concert goers were just about to depart home, an explosion allegedly rocked the foyer of the venue.
Eyewitnesses said people were running and screaming as they scrambled for safety.
"I have seen people running and screaming towards one direction... Security was running out as well as the fans and concert goers," Oliver Jones told the Manchester Evening News.
"[There were] reports of blood and people injured. In so much shock and panic. You see this on the news all the time and never expect it to happen to you," the 17-year-old added.
"It was a huge explosion – you could feel it in your chest. It was chaotic. Everybody was running and screaming and just trying to get out," another concert-goer Catherine Macfarlane told Reuters.
"We got into the foyer and there was smoke everywhere and it smelt of dirty gas, I can't describe it... I don't know what it was," another witness told BBC Radio. "When we finally got out there was people lying everywhere. They had bandages on their heads."
READ MORE: Manchester residents offer roof & free rides to stranded concert-goers
It took 60 ambulances to rush some 59 injured people to at least six hospitals across the Manchester area.
Amid the chaos, many children and teens were separated from their chaperones and some still remain missing. Meanwhile, residents of Manchester have been offering free rides, space to stay overnight and other help to their compatriots affected by the tragedy.
READ MORE: Theresa May halts campaign to chair emergency Cobra meeting following Manchester 'terrorist attack'
You can share this story on social media: