Trump says he never mentioned Israel during meeting with Russian officials
Published time: 22 May, 2017 19:54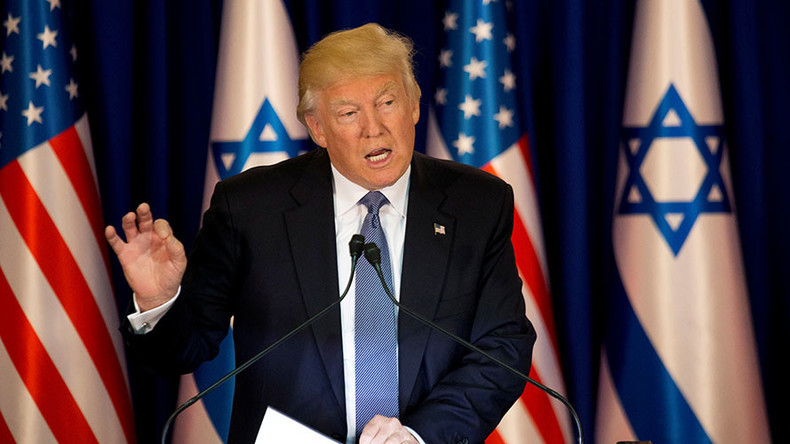 President Donald Trump has once again defended himself against allegations of sharing US intelligence data provided by Israel with Russian officials during recent a meeting in Washington.
Trump said he "never mentioned the word or the name Israel" during his conversation with Russian Foreign Minister Sergey Lavrov and the Russian Ambassador to the US Sergey Kislyak on May 10.
"So you have another story wrong," he told the media during a brief press appearance alongside Israeli Prime Minister Benjamin Netanyahu in Jerusalem.
Netanyahu said US-Israeli intelligence cooperation is "terrific," thus dismissing allegations that the reported incident could have undermined US-Israeli ties in that field. Their comments came at a briefing ahead of a dinner at Netanyahu's residence.
Earlier, the US Secretary of State, Rex Tillerson, told reporters that the US president has no reason to apologize for sharing information with Russia.
"I don't know that there's anything to apologize for," Tillerson said aboard Air Force One en route from Riyadh to Tel Aviv, as reported by AP. He also said that the US would be "happy to provide a clarification" concerning the issue "to the extent the Israelis have any questions."
On May 15, the Washington Post reported that Trump "revealed highly classified information to the Russian foreign minister and ambassador," citing some unidentified "current and former US officials."
According to the report, Trump disclosed some "code-word information" relating to Islamic State (IS, former ISIS/ISIL) to Lavrov and Kislyak during the May 10 meeting in the Oval Office at the White House. The report also said the data was provided by "a US partner through an intelligence-sharing arrangement."
The report was then repeatedly refuted by a number of senior White House officials, including National Security Advisor Herbert Raymond McMaster, who called it "false." He added that Trump could not have possibly disclosed Israel's role in gathering that intelligence data because "the president isn't even aware of where this information came from," NBC reports.
Following the media uproar caused by the report, Trump said that he had an "absolute right" to share data concerning "flight safety and terrorism" with Russian officials.
Russia has denied receiving any highly classified intelligence from Trump during the meeting. Russian President Vladimir Putin even said that Moscow is ready to provide the records of the meeting between Trump and Lavrov to prove that no secrets were leaked.

Israel already said that the incident did not affect its ties with the US. On May 17, the Israeli Defense Minister Avigdor Lieberman said in a Twitter post that "the security relationship between Israel & our greatest ally the United States, is deep, significant, and unprecedented in volume."
Israeli Intelligence Minister Yisrael Katz also said he has complete confidence in the US intelligence community. The US and Israel have a strict confidentiality agreement regarding intelligence-sharing.